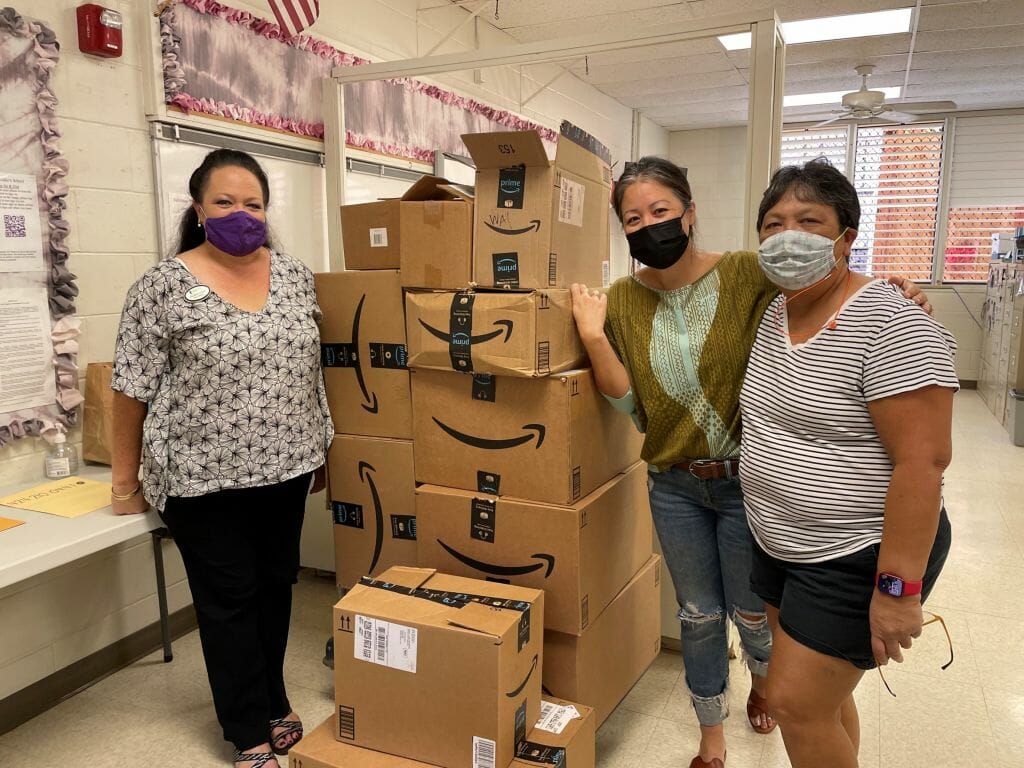 Every year, Realtors across the state team up on a single day to make a tangible difference for elementary, intermediate and high school students as part of Hawaii Realtors' Realtor Action Day, an annual service event that encourages Hawaii's Realtors to volunteer in their respective communities on the same day and at the same time.
2022 marks the fifth consecutive Realtor Action Day service project, which is usually scheduled in the fall. In the past, Realtors Association of Maui (RAM) members have spent the day working on campus beautification projects, everything from priming and painting classroom doors to sprucing up worn-out outdoor benches and trash receptacles.
In lieu of an in-person service project, RAM members collected and delivered wished-for items to two schools: Maui High School and Waihe'e Elementary School. Those items included 100 AAA batteries, 10 thermometers, 50 laptop bags, 50 Chromebook chargers, 50 computer headsets, 50 tower fans. 500 spare earbuds, 600 composition books, 450 glue sticks, 2,880 pens, and 1,440 pencils.
RAM members Erin Clapper of Better Homes and Gardens Real Estate Advantage Realty Valley Isle and Gina Duncan and Gloria Ezera of Fine Island Properties helped deliver the donated items to the two schools.
For Ezera, the project was extra meaningful. She collects school supplies for Waihe'e Elementary School year-round as a volunteer coordinator for the Realtors Association of Maui Community Foundation's Wishing Well… for Maui Students program. Since it was founded in 2007, the Wishing Well program has donated countless goods, supplies and services to every public school on Maui, Moloka'i and Lana'i.
"I'm thankful for the many blessings I've received," Ezera said. "It's my way of paying it forward and helping where I can. Helping teachers and schools is important to me because they have a great responsibility to educate and prepare our youth for the future."
Clapper says she's grateful for an opportunity to help Maui's schools every year through Realtor Action Day. "Serving the community is a core part of what we as Realtors do, but to be able to build lasting relationships with schools is even better," she said. "Instead of a one-time event, we get to come back to the schools, year after year. We not only see some of the successful projects we have been part of in the past, but we get to continue to build meaningful partnerships with the faculty and staff."
Both Clapper and Ezera look forward to the next Realtor Action Day, which they hope will transition back to an in-person, on-campus service project. "We hope to get back to that soon," Clapper said.
Ezera encourages all RAM members to consider signing up for next year's Realtor Action Day. "It's a way Realtors can donate their time to give back to the communities that we live and work in," she said.
Clapper agrees. "I would encourage anyone to who has a few hours to spare to consider serving in this capacity," she said. "It's a great opportunity to make a difference in your community."
For more information about Hawaii Realtors' Realtor Action Day or to see previous Realtor Action Day projects, visit https://www.hawaiirealtors.com/rad/. To learn more about the Realtors Association of Maui Community Foundation's Wishing Well… for Maui Students program or to make a donation, visit www.ILoveMauiSchools.com.
The Maui News - March 7, 2022