RAM program grants wishes for students, teachers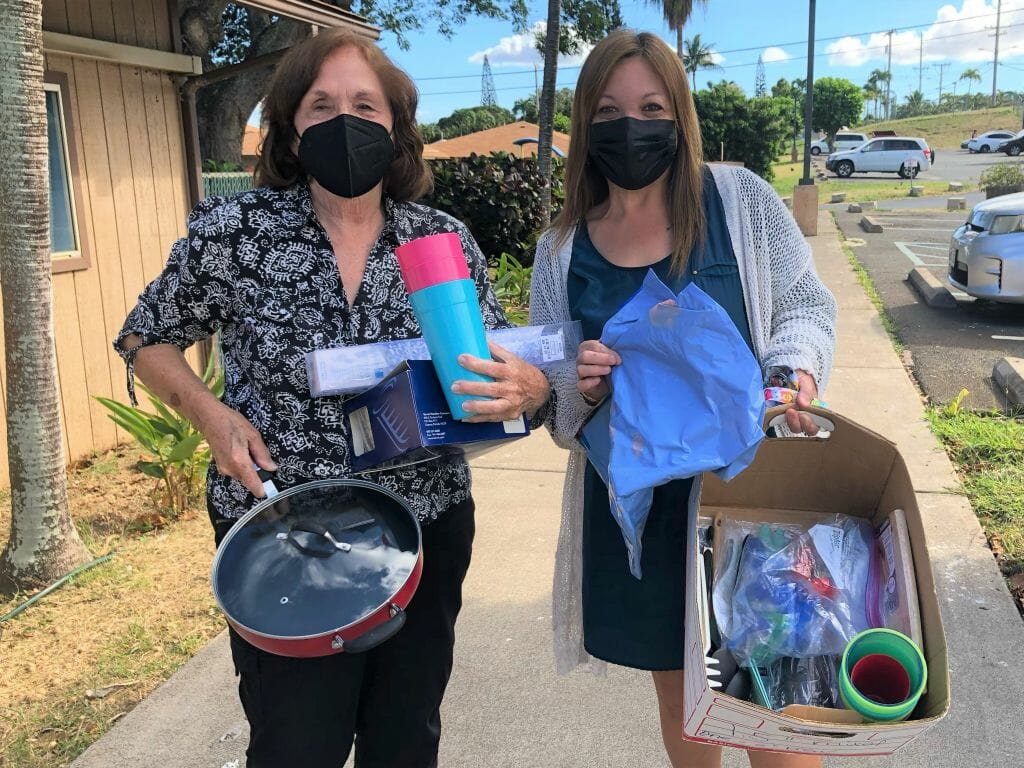 RAM Community Foundation's Wishing Well program collects household items for students and their families staying at Ka Hale A Ke Ola Homeless Resource Center's Wailuku facility.
When a King Kekaulike High School math teacher set out to make her classroom a little more welcoming for her students, she knew who to ask for help: The Realtors Association of Maui (RAM) Community Foundation's Wishing Well…for Maui Students program.
Her classroom has since undergone a transformation. It now has a cozy area rug, a pair of table lamps that emit soft light, and fabric sunflowers that add a touch of whimsy.
And the best part? The students love it. (And the teacher does, too.)
Since its inception in 2007, the Wishing Well program has donated goods, supplies and services to public schools countywide. Run by volunteer RAM members and fueled by the generosity of community donors, the program covers every public school on Maui, Molokai and Lanai and serves approximately 20,000 students countywide. Throughout the year, volunteer coordinators collect and distribute requested "wish list" items—pencils, calculators, notebooks, and everything in between—to schools. "Our mission is to improve the educational experience for all of Maui County's public schools," explained Sarah Sorenson of Whale's Tail Realty, who founded the program 15 years ago.
In May of 2020, the program added Ka Hale A Ke Ola Homeless Resource Centers (KHAKO) as a beneficiary. It may not be a school in the conventional sense, but KHAKO shelters students in different grade levels at its Wailuku and Lahaina facilities.
"The last thing they should worry about is going to school without the basics," Sorenson said. "These children already have to adjust to a new home and maybe even a new school, so it just seemed logical that by designating KHAKO as a 'school,' it would help alleviate stress for the parents and the students."
KHAKO has three Wishing Well coordinators: Sorenson, Melissa Salvador of Old Republic Title and Jill Kaiser of Hawaii Life Real Estate Brokers. Since May of 2020, they've rounded up items like school supplies, rubber slippers, sidewalk chalk, Frisbees and coloring books for children staying at KHAKO's two facilities. Many of these kids arrive at KHAKO with little to no belongings, which is why there is always a need for donations of playground equipment, children's books and games, school supplies, and everyday necessities for families staying at the two shelters, Sorenson said.
You can help Wishing Well program continue to make a difference for KHAKO and all Maui County public schools by purchasing any requested items or making a financial contribution.
Most-wished-for items include white or colored copy paper, boxes of tissues, binder clips, envelopes (both 9×12 and 12×15), electric pencil sharpeners, watercolor sets, composition books (primary, wide-rule and college-rule), construction paper, art supplies, plastic storage containers of all sizes, and ziplock-style baggies of all sizes. Sorenson says she also receives requests for children's books for readers at any level, which are particularly useful for special education, preschool and English as a Second Language (ESL) teachers.
Items like area rugs, flat-screen TVs, folding chairs, office chairs, file cabinets, bookcases and storage units are frequently requested, so if you need to offload any gently used office supplies or furniture, contact Sorenson to schedule a pickup service. For more information about the Wishing Well program or to make a donation, visit www.ILoveMauiSchools.com or call Sorenson at (808) 283-3969.
KHAKO is seeking to build a much-needed canvas overhead covering for the kids' playground area at its Wailuku facility. Executive Director Monique Ibarra says any assistance for the project would be appreciated. For more information about KHAKO or to inquire about donor opportunities, visit www.khako.org or call (808) 242-7600.
The Maui News – February 21, 2022