RAM members still on a roll for island keiki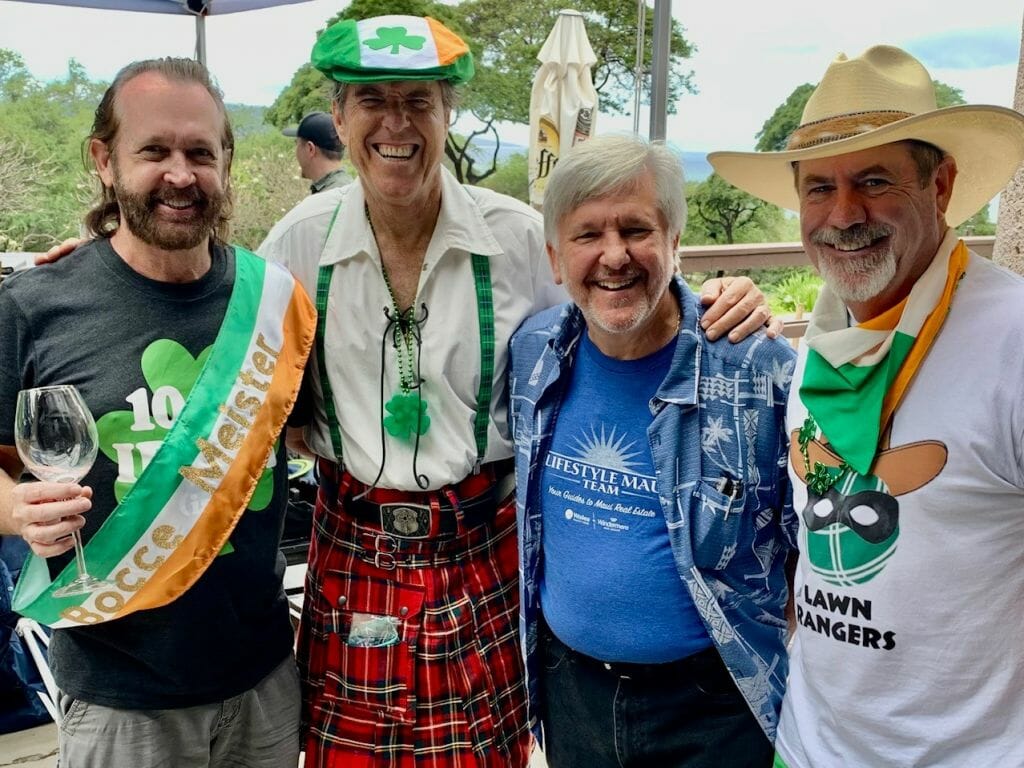 For the eleventh year in a row, green-clad bocce ball players will take the field at Mulligans on the Blue in Wailea for the annual St. Patrick's Day-themed Aloha BackPack Buddies Bocce Ball Fundraising Tournament next month.
The tournament benefits the Maui Food Bank's Aloha BackPack Buddies program, which provides healthy weekend meals to students from food-insecure homes throughout the academic year. The program serves preschools, elementary, middle and high schools, and UH campuses in Maui County. Since it began in 2012, the program has received support from a long list of Realtors Association of Maui (RAM) members, both on and off the bocce ball field.
Under the direction of tournament committee chair and RAM affiliate member Patrick Kilbride, the wildly popular, ultra-festive event typically draws 20 cleverly named teams. And it's all for a good cause: To date, the annual tournament has netted more than $156,000 for the Aloha BackPack Buddies program. "Our Maui parents that need help feeding their children are extremely grateful we operate a fundraising event for their children year after year," Kilbride said. "I believe the Maui children we are helping now will grow up and return the gifts of kindness and generosity to the next generation of children that will need their help.
This year's already-sold-out event will be held on Saturday, March 12, and will feature 20 teams who are ready to engage in some fun and friendly competition. A number of RAM members will be in attendance, either as players, donors, sponsors or volunteers.
Among them is Mike Trotto of Pali Kai Inc. Realtors, who volunteers as an event referee every year. He is a longtime supporter of the Aloha Backpack Buddies program and seized the opportunity to help out at the tournament when it first began eleven years ago. "I have been a volunteer tournament referee ever since," Trotto said. "I truly believe that our main purpose on this planet is for S.T.O.: Service To Others. We all have the capacity to give something. This event is a perfect opportunity to fulfill this obligation and assist our Maui students in a very beneficial way."
Gary Apperson of Hawaii Life Real Estate Brokers has volunteered at the tournament for the past seven years. "My friendship with Patrick, along with his enthusiasm and commitment to the charity, inspired me to help," he explained. "Even though it is a competition and the teams really get into it, it's the camaraderie of all the participants that make it fun and entertaining. It's also the giving spirit from everyone to give back to the community and make this a fun event."
If you'd like to become a sponsor of this year's Aloha BackPack Buddies Bocce Ball Fundraising Tournament, visit https://mauifoodbank.org/event/bocce-ball-tournament. For more information about the Aloha Backpack Buddies program or to make a donation, visit mauifoodbank.org/aloha-backpack-buddies. The Maui Food Bank provides safe and nutritious food to anyone in Maui County who is food insecure. You can make a financial contribution, donate food items or shop for donations online through a virtual food drive. To learn more about the Maui Food Bank or for a list of food drop-off and distribution locations island-wide, visit www.mauifoodbank.org.

The Maui News – February 7, 2022