RAM members continue to make wishes come true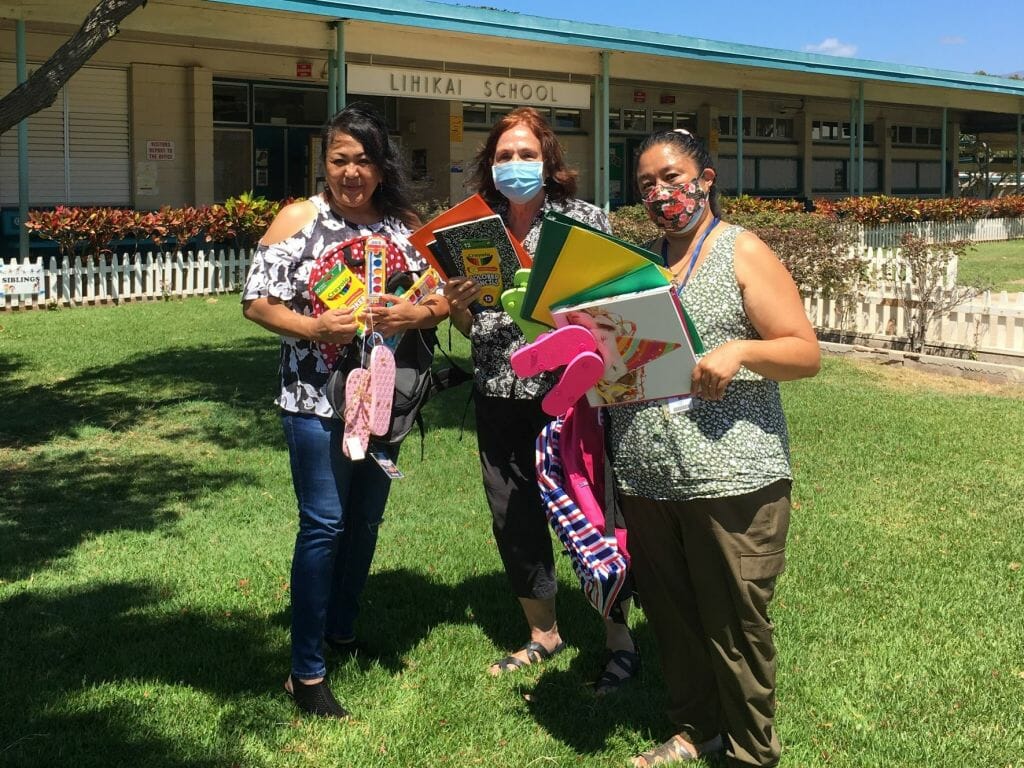 2022 has finally arrived, bringing with it the hope of a better year to come.
And with the new year comes a new semester: Earlier this month, thousands of Maui County students headed back to school, virtually or otherwise. Like the one before it, the 2021-22 academic year has been anything but typical for these students. Apart from changing their learning environments, the COVID-19 pandemic has left many of their parents and teachers financially stressed.
That's why Realtors Association of Maui (RAM) members continue to collect classroom supplies and other items for Maui County schools through the RAM Community Foundation's Wishing Well… for Maui Students program.
Since its inception in 2007, the Wishing Well program has donated goods, supplies and services to public schools countywide. Run by volunteer RAM) members and fueled by the generosity of community donors, the program covers every public school on Maui, Molokai and Lanai, along with Ka Hale A Ke Ola Homeless Resource Centers, a nonprofit that shelters students in different grade levels at its Wailuku and Lahaina facilities.
Throughout the year, volunteer coordinators collect and distribute "wish list" items—pencils, paper clips, rubber slippers and everything in between—to schools. "Our mission is to improve the educational experience for all of Maui County's public schools," said Sarah Sorenson of Whale's Tail Realty, who founded the program 15 years ago. "COVID-19 may have slowed us down and definitely made us make changes at all levels, but education continues… it's just different now."
Unsurprisingly, the wish lists have been longer than usual since the pandemic began. In addition to teachers' requests, Sorenson has received calls from parents and grandparents asking for assistance. Given the unprecedented circumstances, the program has sought a larger quantity of donations—and not just at the start of the school year.
"If you have children in our schools, you know that they all need school supplies, backpacks and maybe even money for a school shirt, a pair of slippers or shoes," Sorenson said. "What you may not realize is how often students may change schools, or change classes in the second semester. Their new teachers may need more supplies or different ones. This is why we offer assistance to the students and teachers all year-round."
You can help Wishing Well program continue to make a difference by purchasing any requested items or making a financial contribution. "We are a 501(c)3 nonprofit, so money donations always allow us to purchase specific requested items that will enhance a teacher's ability to give more of a variety of instructional material in order to reach more of their students," Sorenson explained.
Most-wished-for items include white or colored copy paper, boxes of tissues, binder clips, envelopes (both 9×12 and 12×15), electric pencil sharpeners, watercolor sets, composition books (primary, wide-rule and college-rule), construction paper, art supplies, plastic storage containers of all sizes, and ziplock-style baggies of all sizes.
Sorenson says she also receives requests for children's books for infants and toddlers, which are particularly useful for special education, preschool and English as a Second Language (ESL) teachers. "These books can supplement the classrooms and be available at all times for the students," she said. "If you have new or gently used books, let me know and we will find a home for them."
Items like area rugs, flat-screen TVs, folding chairs, office chairs, file cabinets, bookcases and storage units are frequently requested, so if you need to offload any gently used office supplies or furniture, contact Sorenson to schedule a pickup service. For more information about the Wishing Well program or to make a donation, visit www.ILoveMauiSchools.com or call Sorenson at (808) 283-3969.
The Maui News – January 24, 2022