REALTORS® work to end hunger in Maui County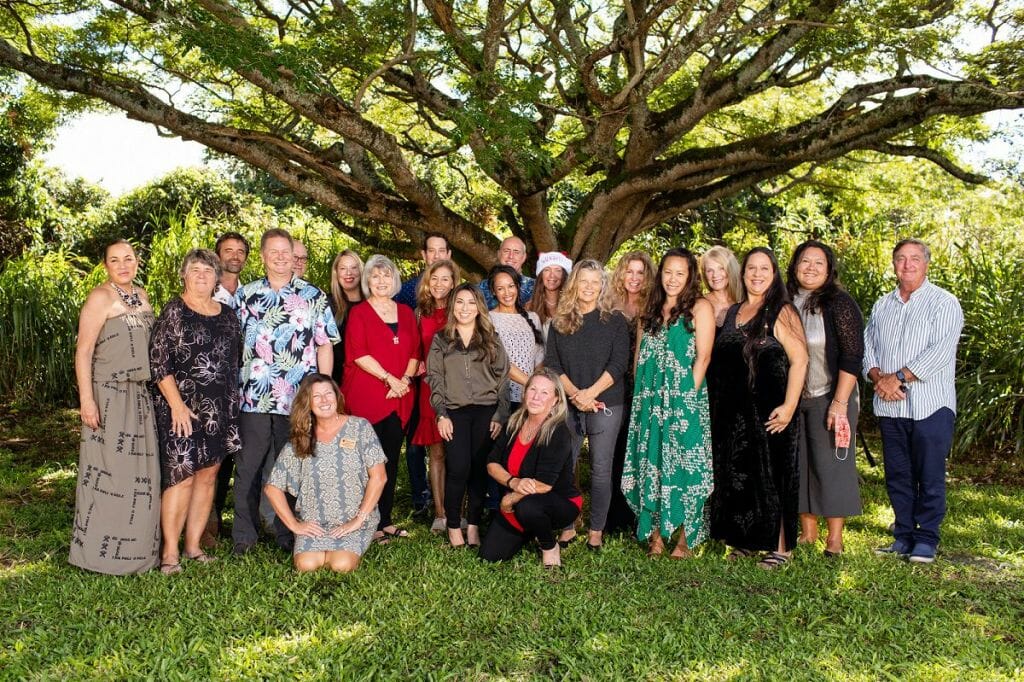 If one of your resolutions for 2022 is to make a difference in your community, here's one way: Contribute to the Maui Food Bank.
Right now, as you read this, there's someone—it could even be a friend, neighbor, classmate or co-worker—grappling with food insecurity in Maui County. The U.S. Department of Agriculture defines food insecurity as a lack of consistent access to enough food for an active and healthy life. It is a daily reality for many residents and the problem has only worsened since the COVID-19 pandemic began.
That's why the Realtors of Equity One Real Estate collect donations for the Maui Food Bank year-round at their Makawao office. The company began hosting holiday food drives several years ago and the Makawao office became the food bank's first designated Upcountry drop-off location in 2020. (Miyake Concrete, also located in Makawao, was the second.)
"We are so proud to be a partner with the Maui Food Bank," said Realtor-Broker in Charge Lynette Pendergast. "We are also thrilled to have a location Upcountry where people can drop off food in our community."
The company has made a big impact. "Equity One Real Estate has been especially generous in 2021 with their contributions to the Maui Food Bank," said Marlene Rice, development director of the Maui Food Bank. "They have helped the hungry in Maui County by providing close to 6,000 meals for those in need of hunger relief. As we work together, we are making a difference in the lives of those experiencing food scarcity."
With that in mind, Realtor-Broker Alysha Sparkman-Nichols encourages residents and visitors to bring donations to the Equity One Real Estate office. "It's great when our Upcountry community stops by, so we can meet and thank these everyday angels," she said. "We also love it when visitors clean out the remains of their VRBO pantries and drop off loads, too, which happens fairly often. It makes our hearts swell to know that those within and outside of our community care."
Pendergast shares the sentiment. "Seeing folks who are going hungry breaks my heart—and the generosity of those who have contributed brings me such joy," she said. "We have members of our community drop off food and money knowing they are helping those in need. We have guests of our ​beautiful island leave food they couldn't eat before they went back home. Everyone is thankful they are in a position to help those who need a little help."
Realtor-Broker Moana Andersen agrees wholeheartedly. "Supporting the Maui Food Bank is a privilege and joy that everyone can share in," she said. "From volunteering your personal time to donating cans or money, there is always more to give."
On that note, Anderson, Pendergast, Sparkman-Nichols and their Equity One Real Estate colleagues will continue to help fill the food bank's shelves so that no one in Maui County goes hungry.
"Hunger is unnecessary in a nation and state as great as ours, so it is maddening to know that this epidemic is real, right here in our own fertile Maui backyard," Sparkman-Nichols said. "Luckily, aloha is alive and well so our island 'ohana can remain nourished, and that is a relief to all parties—a relief to the painful hunger and a relief knowing that your donation is literally a lifeline for someone else."
The Maui Food Bank provides safe and nutritious food to anyone in Maui County who is food insecure. A monetary donation of $25 can provide 100 meals to those in need of hunger relief. You can also donate food items or shop for donations online through a virtual food drive. To learn more about the Maui Food Bank or for a list of food drop-off and distribution locations island-wide, visit www.mauifoodbank.org or call 243-9500.
Upcountry residents and visitors can drop off donations from 9 a.m. to 4 p.m.Monday through Friday at Equity One Real Estate's office at 3681 Baldwin Ave. #101 in Makawao. For more information, call (808) 572-6406 or email info@equityonemaui.com.
The Maui News – January 10, 2022