RAM members bring holiday magic to KHAKO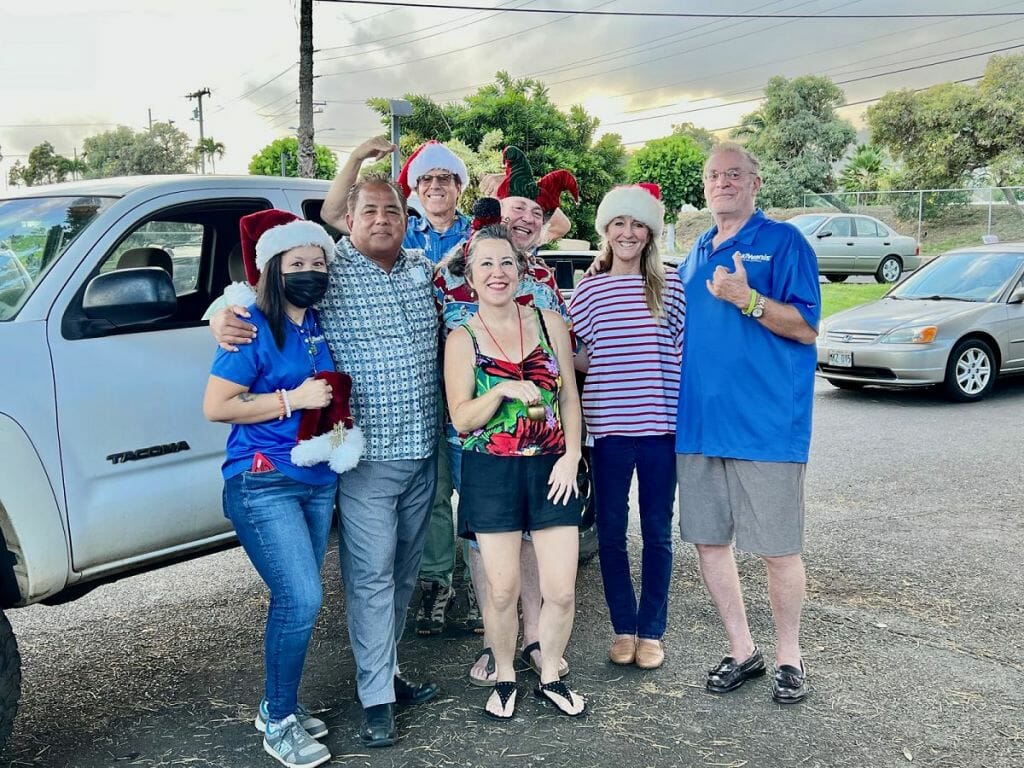 As you can imagine, Santa has a pretty busy schedule in December. But that didn't keep him from paying a visit to the Ka Hale A Ke Ola (KHAKO) Homeless Resource Centers Wailuku facility on Wednesday, Dec. 1.
That evening, members of the Realtors Association of Maui (RAM) and Kiwanis Club of Kahului brought holiday magic to 50 kids staying at the shelter. And they did it as merrily—and safely—as possible with a drive-by Christmas parade featuring festive music, gifts, dinner and photos with Santa.
"The RAM and Kiwanis-sponsored Christmas dinner was especially fun and eventful for the keiki of the shelter, but the parents were overjoyed as well to see such enjoyment," said Monique Ibarra, executive director of KHAKO. "We are so thankful to this amazing group of volunteers for their generosity of time, talent, treasures and joy."
Several RAM members and RAM affiliate members took part in the festivities, including Naomi Petterson of Maui Realty Company, who is also the 2021-22 president of the Kiwanis Club of Kahului; Kai Schmidt of First Hawaii Title, who is the club's vice president; Bruce McDonald of Coldwell Banker Island Properties, who is a two-time past president of the club; Patrick Kilbride of PK's Plants and Lawn Services, who is also a Kiwanis Club of Kahului member; Howard Dinits of Dinits Realty, Debra Merle of Island Sotheby's International Realty and Brendan O'Colmain of State Farm.
"During the holidays, many of the children and their families who are in need do not know what it's like to enjoy their time together peacefully due to their circumstance," Petterson said.
"They have no resources or stability beyond the minimum, and most occasions, even less. That is very humbling for me. If I can ease that burden together with others in the community to help make their holidays special, even for a brief moment, then that alone is fulfilling and a blessing."
Petterson and her fellow RAM helper elves delivered dinner and gifts donated by the Friends of the Children's Justice Center of Maui; O'Colmain deejayed the event. The group also set up a photo station with a Christmas-themed backdrop so the kids could take a photo with Santa before dinner was served.
The highlight of the event, McDonald said, "Was the pure enjoyment of everyone having fun and knowing that they matter … it's always a pleasure to assist and see the joy in the kids' and parents' faces, as this year they actually got to visit with Santa."
Petterson agrees. "My highlight of the event was the children having happy little conversations with Santa prior to the event. They were so excited to see him," she said. "It was like they did not expect him to come by to see them. It was so endearing and emotional that I had to step away for a bit. Everyone deserves the magic of Christmas in their lives. These children were so appreciative of their gifts and that energy made it all the more inspiring to be a part of the event."
This isn't the first time RAM members have stepped up to support KHAKO. Throughout the year, they sponsor and serve meals at the nonprofit's two facilities in Lahaina and Wailuku.
RAM members also raised nearly $30,000 to help KHAKO purchase a brand-new playground for its Wailuku facility. And through the RAM Community Foundation's Wishing Well…for Maui Students program, RAM members collect and deliver school supplies and other items to students staying at the shelter.
Petterson encourages others to help KHAKO in any way they can. "To show compassion, respect and love to another with no expectations in return is one of the greatest gifts that you could ever give," Petterson said. "Volunteering your time to those in need, especially during the holidays, can make all the difference in the world for the people you impact with joyful intentions."
KHAKO is seeking to build a much-needed canvas overhead covering for the kids' playground area. Ibarra says any assistance for the project would be appreciated. For more information about KHAKO or to inquire about donor opportunities, visit www.khako.org or call (808) 242-7600.
The Maui News – January 3, 2022