RAM honors its 2021 Affiliate of the Year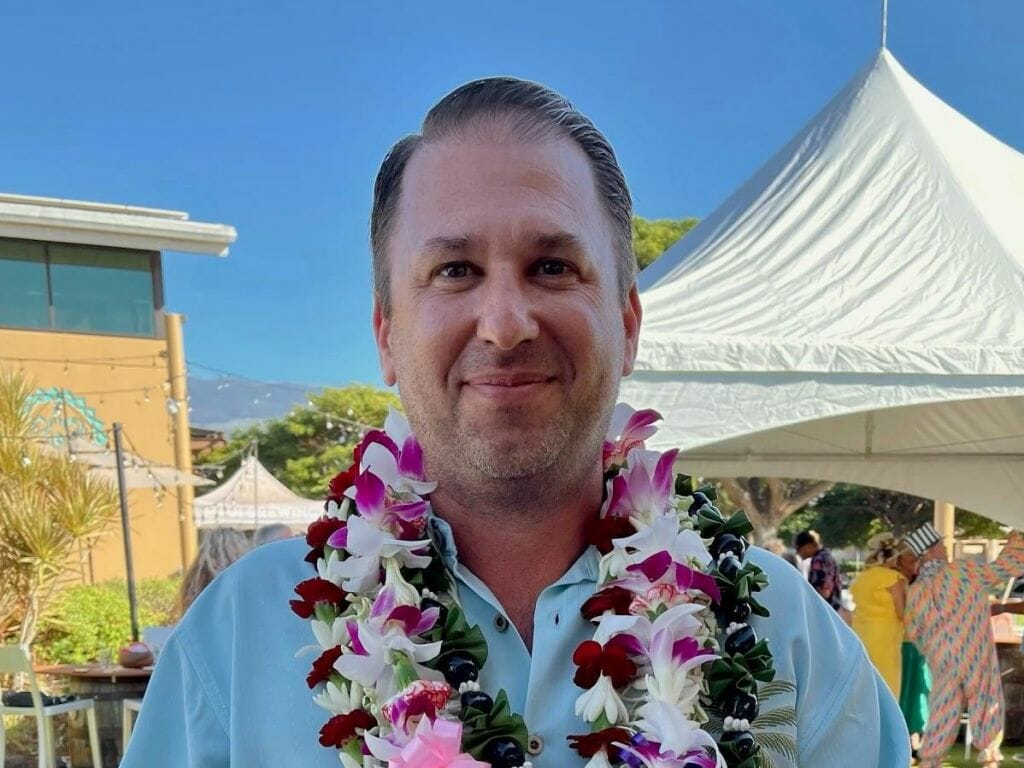 When Dan Bardenhagen arrived at the Realtors Association of Maui's (RAM) installation gala on Friday, Nov. 5 at Maui Brewing Company in Kihei, he never imagined he'd be a part of the day's agenda.
So when he heard his name announced as RAM's 2021 Affiliate of the Year, Bardenhagen did a double-take. "I was very surprised, excited and overwhelmed with joy when my name was announced," he recalled. "I have worked with the Realtors of Maui for more than 15 years now and felt so honored to be selected by the association."
That day, Bardenhagen was recognized for his business accomplishments, as well as his spirit, character, professionalism and volunteer work. He was honored alongside 2021 Realtor Broker of the Year P. Denise La Costa and 2021 Realtor Salesperson of the Year Jessica Baker.
RAM's affiliate members include, and are not limited to, mortgage loan officers, escrow professionals, attorneys, home inspectors, insurance agents, landscapers, home stagers and pest control specialists. These affiliate members may not be engaged in the actual real estate profession, but they are actively engaged otherwise: Many routinely participate in RAM membership events, fundraisers and other community-centric activities.
Bardenhagen is one of those active affiliates. He's a senior loan officer with Northpointe Bank and has been a well-respected figure in Maui's lending industry for nearly two decades. He started his career in Torrance, California before transferring to Hawaii in 2003. Since then, he's become one of the state's top loan funders and was recognized for being in the top 1 percent nationwide for purchase volume. In 2014, Bardenhagen was selected as one of Pacific Business News' "Forty Under 40" honorees. The awards program recognizes young professionals in Hawaii who demonstrate business excellence, contribute to the overall success of their company, stand out among their peers and colleagues, and are involved in their communities.
What does he love most about his job? "I really enjoy being able to make such a large financial decision less stressful for families when purchasing or refinancing their home," he said.
If he's not in his office crunching numbers or working with a client, Bardenhagen is spending time with his wife, Leila, and their three young children or contributing to a worthy cause. "I try to support local charities as much as possible," he said.
Among other things, Bardenhagen has been a Lions Club member, served on the Imua Family Services board of directors and has volunteered with Habitat for Humanity Maui. He's also participated in Maui Paddle for a Cure, an event in which stand-up, kayak, and canoe paddlers take to the water to promote breast cancer awareness and raise funds for Susan G. Komen Hawaii, which sponsors breast cancer education and screening and treatment initiatives in Hawaii. Of his many accomplishments over the years, Bardenhagen says he's most proud of the three kids he and Leila are raising: Blake, age 5, Luke, age 3, and Sylvie, who is three months old. He's also proud to be a RAM affiliate member. "Maui has so many great Realtors and affiliates that really care about home buyers and sellers and making their transactions as smooth as possible," he said.
The Maui News – December 27, 2021