RAM members give back – 23 years and counting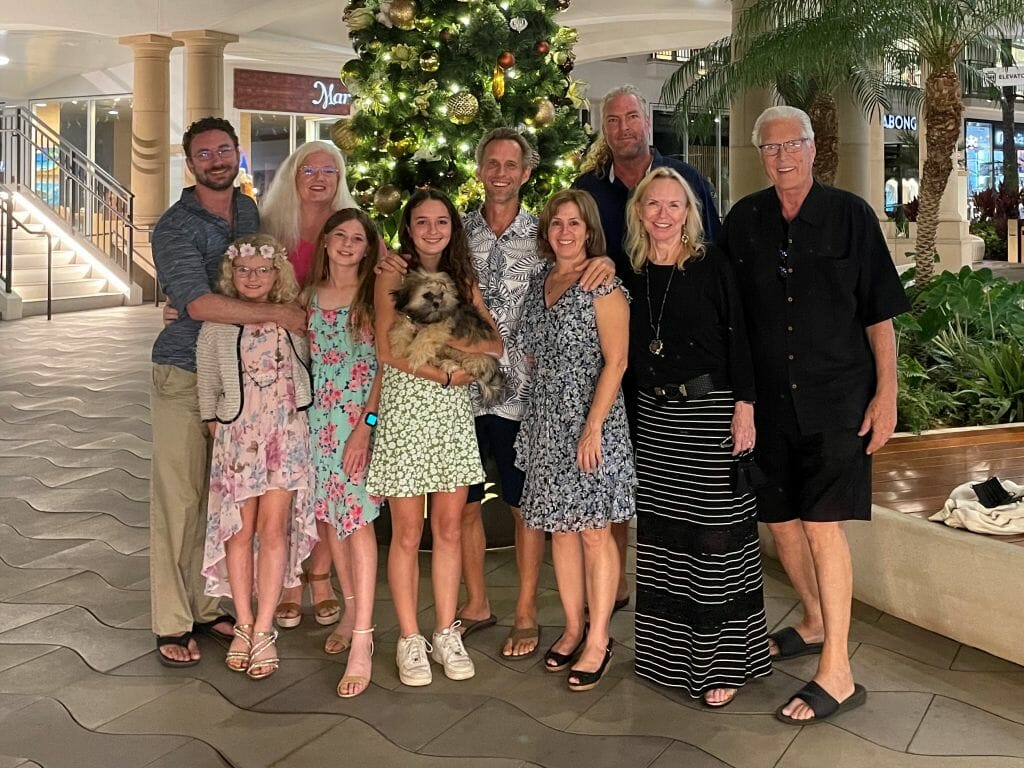 For the past 23 years, Bob, Donna and Clint Hansen of Maui Luxury Real Estate LLC have brought Christmas joy to kids who need it most by holding an annual toy drive for the Friends of the Children's Justice Center of Maui. If you ask them how many gifts they've collected over the years, they can only shrug. They haven't kept track of the total number, but it's in the thousands.
"It's the best holiday gift we can give ourselves as we imagine children getting a gift they otherwise might not have received," Donna said.
In the months leading up to the holiday season, the Hansens stockpile toys, gift cards and cash donations. The toy drive kicks into high gear the day after Thanksgiving and typically culminates with a private party in mid-December. The family has had to cancel the celebratory event twice now due to COVID-19, but they're not letting the pandemic stop their annual holiday tradition.
This year's toy drive began on Friday, Nov. 26 and will run through Friday, Dec. 24. Donors can mail or bring a new, unwrapped gift for a child of any age—infants, toddlers, tweens and teens—or a gift card or check (made out to the Friends of the Children's Justice Center of Maui) to the Hansens' Wailea office or schedule a donation pick-up. All of the gifts will be distributed to children on Maui, Molokai and Lanai.
Hawaii's Children's Justice Centers are programs of the Hawaii State Judiciary and were established by the state legislature in 1986 to ensure a fair and neutral process for the handling of reports of child abuse. Each center is designed to make children feel safe and comfortable while being interviewed about reports of abuse and as witnesses to crimes. On average, the state's Children's Justice Centers see approximately 1,000 children every year and many of them arrive with no more than the clothes on their backs.
That's where organizations like the Friends of the Children's Justice Center of Maui step in to help. It provides funding for direct services to help children recover from the damaging effects of their abuse and works with community partners to fulfill their needs. Additionally, every holiday season, the nonprofit collects and distributes toys to kids of all ages throughout Maui County, and for many of them, it may be the only gift they will receive.
"The magic that the Hansen 'ohana brings during Christmas to Maui County helps us to create a community in which no foster or abused child will feel alone during the holidays. For the last 23 years, they have ensured that each and every child we serve will have a great Christmas when they get to open their special gifts from Santa," said Paul Tonnessen, executive director of the Friends of the Children's Justice Center of Maui. "More importantly, through their generosity, they are also sending them an important message that there is a caring and loving community out there for them. Over the years, they have shown almost 20,000 of our Maui children the true meaning of giving during Christmas and on behalf of each and every one of them: Mahalo Donna, Bob and your 'ohana for playing a major role in their healing process."
To all of those who have donated over the past 23 years, Donna said, "Thank you for making a difference in a child's life. Giving them hope and letting them know that someone they don't know cares about them really will help … you are letting them know that there is a great life out there for them and that they have hope." The Hansens' office is located at 161 Wailea Ike Pl., Suite A-106 in the Wailea Town Center, next to Matteo's Osteria. For more information or to schedule a pick-up, call 280-1650 or email dad@mauirealestate.net. Donation receipts can be provided. To learn more about the Friends of the Children's Justice Center of Maui or to inquire about donor opportunities, visit www.mauicjc.org or call 986-8634.
The Maui News – December 20, 2021