RAM honors its 2021 REALTOR® Broker of the Year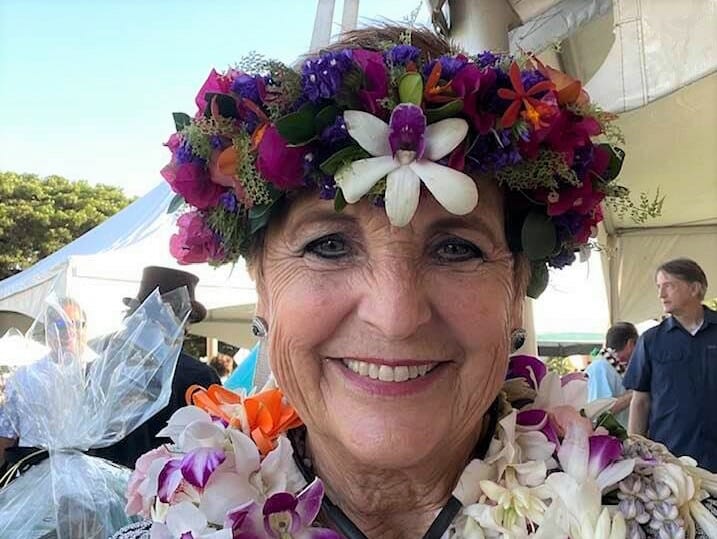 When P. Denise La Costa arrived at the Realtors Association of Maui's (RAM) circus-themed installation gala on Friday, Nov. 5, at Maui Brewing Company in Kihei, it never crossed her mind that she'd be a focal point of the event.
In fact, La Costa was exchanging pleasantries with a friend, Patrick Kilbride, when 2020 Realtor Broker of the Year Donna Ting took the stage that afternoon to announce the 2021 Realtor Broker of the Year.
"I heard bits and pieces of her describing 'this person.' Patrick stopped speaking and looked towards the stage. I did the same. It was then that I heard Donna describe the 2021 Realtor Broker of the Year as the biggest Seahawks fan she knows with season tickets since day one … that is when I thought: 'Oh my goodness, it's me," La Costa recalled. "I gasped, put my hand over my mouth, tears welled into my eyes, and Patrick said, 'You should probably go up on the stage.'"
That day, three honorees—La Costa, 2021 Realtor Salesperson of the Year Jessica Baker, and 2021 Affiliate of the Year Dan Bardenhagen—were recognized for their business and real estate accomplishments, as well as their character, professionalism, and volunteer work.
La Costa got her real estate license in 1992, became a Realtor Broker in 2001, and opened La Costa Realty Hawaii in 2004. Over the years, she's made her mark in the industry. Among other things, she served as the 2012-13 RAM President and was appointed chairperson of the Hawaii Realtors Political Action Committee in 2015. Earlier this year, Gov. David Ige appointed her to serve as the Maui County commissioner on the Hawaii Real Estate Commission.
And that's not her only commissionership. In 2018, La Costa was nominated by then-Mayor Alan Arakawa and confirmed by the Maui County Council to serve on the Maui Planning Commission; she was elected vice chair in March of 2021.
Serving on not just one, but two commissions is clearly no small feat, but La Costa still finds time to give back to her community in other ways. She is a founding member of Women Helping Women's West Maui Task Force, which has since been renamed the West Maui Community Task Force. La Costa currently serves as vice president of the task force, which provides assistance to victims of domestic violence and other West Maui residents in need.
She's also a lector and Eucharistic minister at Maria Lanakila Church in Lahaina and a dame of honor in the Knights of the Orthodox Order of St. John Hospitaller, Russian Grand Priory Hawaii Priory. Most recently, La Costa joined the Maui Chamber Orchestra's board of directors and was elected vice president of Aloha Ranch, a newly formed nonprofit that is working to assist Maui's unsheltered.
Her efforts to help others have not gone unnoticed: The Hawaii State Legislature recognized La Costa twice for her volunteer work with Women Helping Women and other contributions to the community.
And yes, she also makes time for her beloved Seattle Seahawks. On game days, you're more than likely to find this diehard fan decked out in blue and green from head to toe. And as a season ticket-holder, she routinely flies to Seattle to cheer them on in person.
The greatest reward of being a Realtor Broker, La Costa said, "Is helping people get what they want and need." Also, she said, "It is so important to help educate the public about real estate and provide them with exemplary service."
La Costa says she's grateful to be part of Maui's real estate community. "There are so many Realtors and affiliates of RAM that do so much for the community: their churches, children's organizations, education and the Maui Food Bank," she said. "Many are silent heroes working in the background. So next time you are with a Realtor outside of their 'real estate activities,' please take note and see what they do for their friends, family and the community. I think you will be surprised and hopefully acknowledge their contributions to make Maui truly no ka 'oi."
The Maui News – November 29, 2021