REALTORS® help students, teachers thrive in the classroom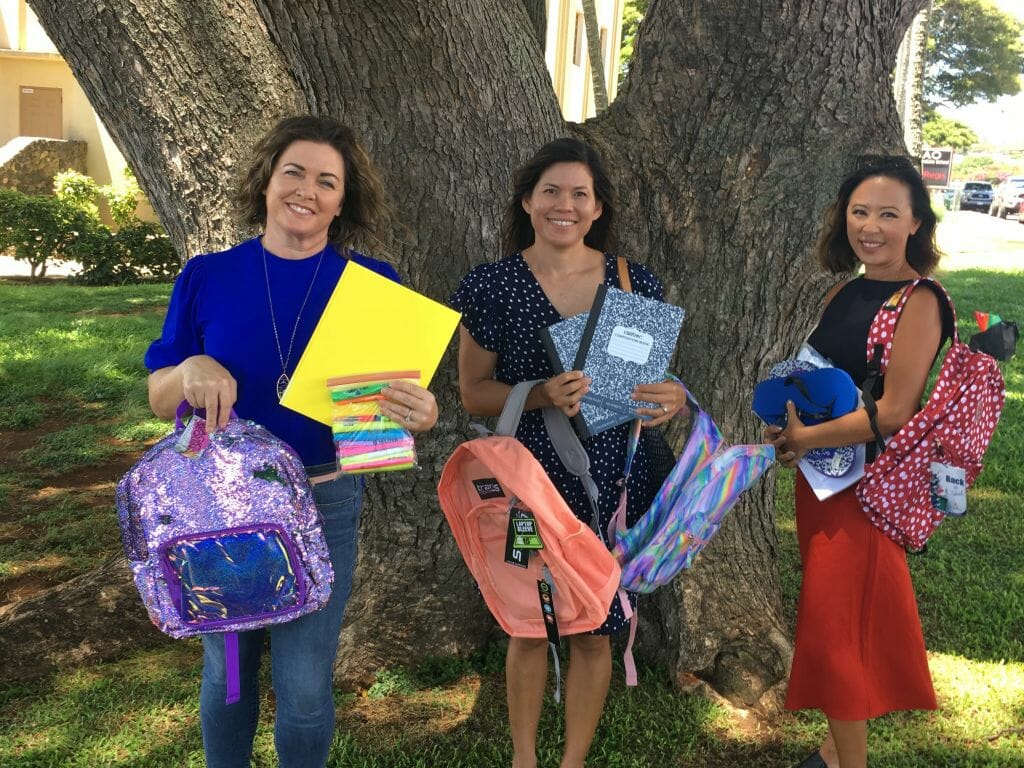 The 2021-22 academic year is now in full swing, and while the back-to-school shopping season may be behind us, there's still a need for basic supplies. The reality is, many students can't afford these items and teachers often pick up the tab. In fact, according to a recent U.S. Department of Education survey, 94 percent of teachers reported spending their own money on classroom supplies without reimbursement.
That's why Kim Delmore of Delmore Realty, Jeannie Kong-Evarts of Maui Real Estate Advisors, and Melissa Salvador of Old Republic Title collect school supplies year-round for Pu'u Kukui Elementary School through the Realtors Association of Maui Community Foundation's Wishing Well… for Maui Students program.
Since 2007, the Wishing Well program has donated goods, supplies and services to public schools countywide. Run by volunteer Realtors Association of Maui (RAM) members and fueled by the generosity of the community, the program covers every public school on Maui, Molokai and Lanai, along with Ka Hale A Ke Ola Homeless Resource Centers, a nonprofit that shelters students in different grade levels at its Wailuku and Lahaina facilities.
Delmore and Salvador have been the coordinators for Pu'u Kukui Elementary School since 2016; Kong-Evarts joined them in 2017. Since then, the trio has worked together to fulfill teachers' wish lists and ensure every student has the tools he or she needs to succeed in the classroom.
Salvador knows firsthand how important it is to support educators—her mother is a retired public school teacher. "I grew up watching her pay for classroom supplies out of her own pocket," she said. "So when my son started at the local public school, I signed up to be a coordinator for his school."
Like Salvador, Delmore signed up to be a coordinator when her oldest child started at Pu'u Kukui Elementary School. (Both of her children now attend the school.) "I wanted to help the teachers and students right in my community and this was a perfect opportunity to be of service," she said.
The same goes for Kong-Evarts. "I wanted to help children and teachers get the supplies they needed," she said. "I have four children, and throughout the years, I saw all that they needed—which was sometimes a bit overwhelming. That school list is a bit daunting."
With that in mind, all three coordinators say they hope others will consider donating to the program. "Know that every dollar will be well spent with great care and consideration," Kong-Evarts said. "The Wishing Well tries very hard to be flexible, timely and to meet the needs of teachers and students. These are all volunteers, actually 'communitarians,' who care deeply about our children's education and teachers."
Delmore agrees. "We have a great track record, and with the system of coordinators, we can reach out to those in need and get your monetary or supplies donations in the hands of those who will use and appreciate it."
And no donation is too small. "Every little bit helps, whether you donate a couple packs of pencils or write a $100 check," Salvador said. "One-hundred percent goes to helping Maui County public school students and teachers." While the focus may be on school supplies, she said, "Teachers often need materials, tools or resources beyond pencils, paper and glue. Monetary donations go to help purchase those special requests that may be used for a hands-on science experiment, a unique way to demonstrate a history lesson, or a fresh idea on how to assist with learning disabilities."
You can help Delmore, Kong-Evarts and Salvador continue to make a difference by purchasing requested items or making a cash donation to the Wishing Well program. Most-wished-for items include primary journals, one-, three- and five-subject wide-rule and college-rule notebooks, half-inch, one-inch, one-and-a-half-inch and two-inch regular and view binders, construction paper, art supplies, sanitizing liquid soap and wipes, small handheld calculators, scientific calculators, electric pencil sharpeners, copy paper, compasses, protractors, blue, black and red ballpoint pens, erasers, and pencil boxes. Items like office chairs, file cabinets, bookcases and storage units are frequently requested, so if you own a business and need to offload any gently used office supplies or furniture, contact the Wishing Well program to schedule a pickup service. For more information or to make a donation, visit www.ILoveMauiSchools.com or call Sarah Sorenson at 283-3969.
The Maui News – September 20, 2021