REALTOR® helps South Maui students succeed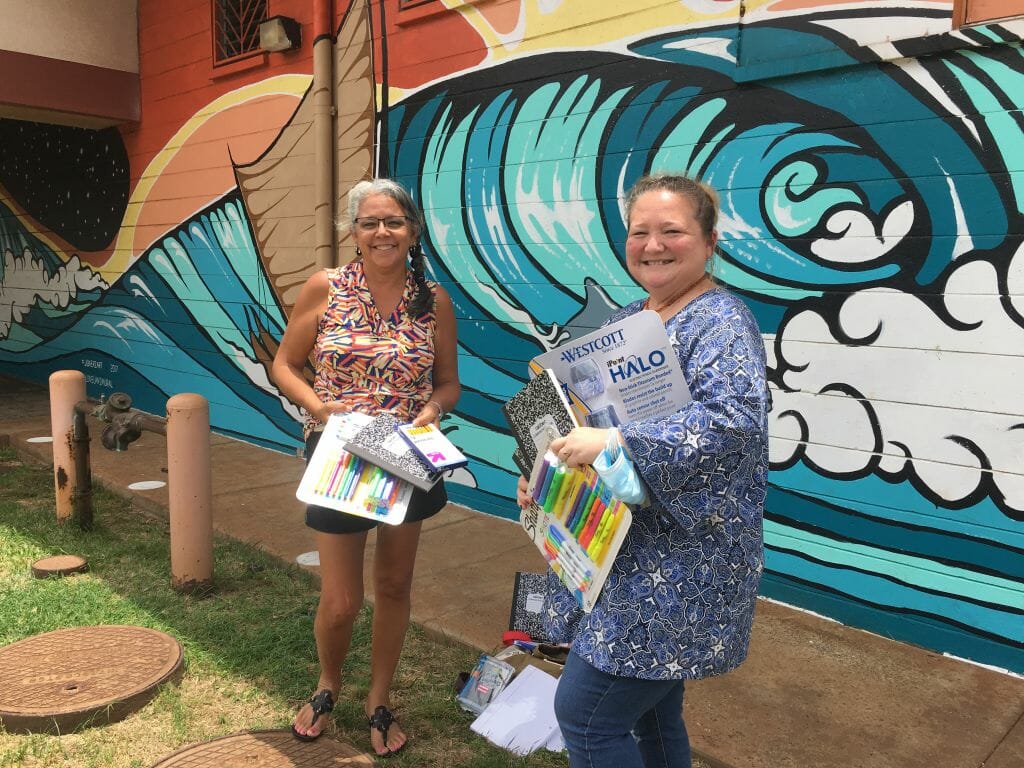 Right now, in a classroom somewhere, a Kindergartener is using a bright red crayon to write his name on a sheet of paper. Down the hall, a third-grader sharpens a No. 2 pencil before opening her composition notebook. And outside on the playground, a fifth-grader plays tag wearing a brand-new pair of rubber slippers.
These are some of the basic tools elementary school students need in the classroom, but for many kids, these essentials aren't always within reach. That's where the Wishing Well… for Maui Students program steps in to help.
Wishing Well… for Maui Students is a program of the Realtors Association of Maui Community Foundation (RAMCF), a 501(c)3 nonprofit organization. Since 2007, the Wishing Well program has donated countless goods, supplies and services to public schools countywide. Run by volunteer Realtors Association of Maui (RAM) members and fueled by the generosity of the community, the program covers every public school on Maui, Molokai and Lanai, along with Ka Hale A Ke Ola Homeless Resource Centers, a nonprofit that shelters students in different grade levels at its Wailuku and Lahaina facilities.
Each school has a volunteer Wishing Well coordinator (and in some cases, a pair of coordinators) who collects and distributes donated school supplies year-round. The RAM member coordinators include Malia Ashlock, Traci Bean, Michelle Bosque, Michele Crozier, Sue DeLoria, Kim Delmore, Penni Egger Gloria Ezera, Amy Johnson, Jill Kaiser, Paula Kobayashi, Jeannie Kong-Evarts, Rosalind Link, Melissa Montgomery, Kris Musto, Darryl and Jane Ng, Suni Novotny, Kay Okamoto, Barb Potts, Ricardo Ralha, Anna Revilla, Sharon Robinson, Melissa Salvador, and the program's founder, Sarah Sorenson.
Rosalind Link of Wailea Realty Corp. + Windermere Real Estate is one of the program's newest volunteer coordinators. In November of 2020, she signed up to be the coordinator for not one, but two schools: Kihei Elementary School and Lokelani Intermediate School. "I noticed that no one was covering the two schools, which are down the street from where I work and I drive by every day," she explained.
Serving as the coordinator for two schools is no small feat, but Link is up for the challenge. "I am busy, but now that my kids are all grown up, it's a way for me to give back," she said. What's most rewarding, she said, "Is the appreciation for doing such a small thing from the school staff."
At Lokelani Intermediate School, Link works with Parent-Community Networking Center Facilitator Jennifer Nay to fulfill teachers' wish lists. "The efforts of volunteers like Rosalind are endless," Nay said. "Wishing Well has benefited our students and teachers at Lokelani by helping us with continued donations of things like school supplies and even things like slippers for students who may need a pair if their shoe breaks while they are on campus."
Nay says she's grateful to everyone who supports the program. "If you are making donations to the Wishing Well program, I first want to say thank you," she said. "All donations help our schools, and with the pandemic affecting everyone in different ways, all donations help our students thrive."
To anyone considering making a donation, Link said, "It only takes a small amount of time and money. If everyone would give, it would make a large difference."
On that note, you can help Link and her fellow Wishing Well coordinators continue to make a difference by making a cash donation or purchasing wished-for items. Those items include primary journals, one-, three- and five-subject wide-rule and college-rule notebooks, half-inch, one-inch, one-and-a-half-inch and two-inch regular and view binders, construction paper, art supplies, sanitizing liquid soap and wipes, small handheld calculators, scientific calculators, electric pencil sharpeners, copy paper, compasses, protractors, blue, black and red ballpoint pens, erasers, and pencil boxes. Items like office chairs, file cabinets, bookcases and storage units are frequently requested, so if you own a business and need to offload any gently used office supplies or furniture, contact the Wishing Well program for a pickup service. For more information or to make a donation, visit www.ILoveMauiSchools.com or call Sarah Sorenson at 283-3969.
The Maui News – September 13, 2021