Making back to school wishes come true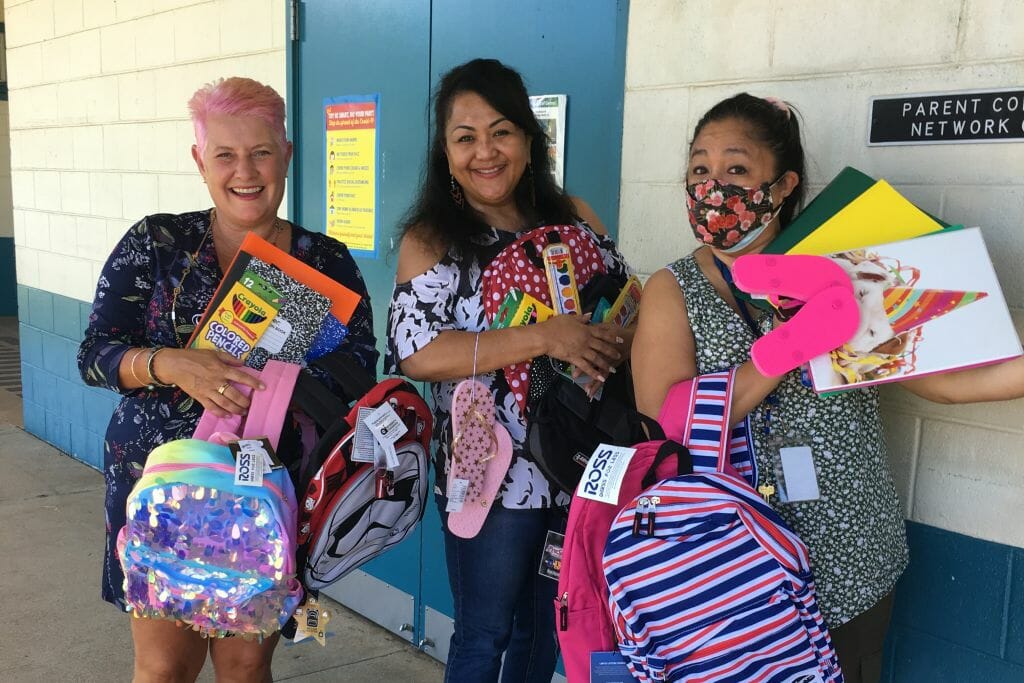 A new school year is underway, and for many Maui County students, it's off to an even better start thanks to the Wishing Well… for Maui Students program.
Wishing Well… for Maui Students is a program of the Realtors Association of Maui Community Foundation (RAMCF), a 501(c)3 non-profit organization. Since 2007, the Wishing Well has donated countless goods, supplies, and services to public schools countywide. Run by volunteer RAM members and fueled by the generosity of the community, the program covers every public school on Maui, Molokai and Lanai, along with Ka Hale A Ke Ola Homeless Resource Centers, a nonprofit that shelters students in different grade levels at its Wailuku and Lahaina facilities.
Each school has a volunteer coordinator (in some cases, more than one) who collects and distributes "wish list" school supplies—pencils, calculators, rubber slippers, and everything in between—throughout the year to teachers, school personnel, parents, and grandparents. The RAM member coordinators include Malia Ashlock, Traci Bean, Michelle Bosque, Linda Briske, Michele Crozier, Kim Delmore, Susan DeLoria, Penni Egger, Gloria Ezera, Mary Fabbio, Amy Johnson, Jill Kaiser, Paula Kobayashi, Jeannie Kong-Evarts, Rosalind Link, Melissa Montgomery, Kris Musto, Darryl and Jane Ng, Suni Novotny, Kay Okamoto, Barb Potts, Ricardo Ralha, Anna Revilla, Sharon Robinson, Melissa Salvador, Sarah Sorenson, and Sharon Viger.
Revilla is the coordinator for two schools: Maui Waena Intermediate School and Lihikai Elementary School. Three years ago, she learned the elementary school was in need of a Wishing Well coordinator and seized the opportunity to help. "I jumped at the chance to volunteer," she recalled. For Revilla, it was a perfect fit: Not only is Lihikai Elementary School her alma mater (and her kids', too), but its Parent-Community Networking Center facilitator, Rosa Stone, is her former classmate and childhood friend.
Since then, Revilla and Stone have worked together to fulfill teachers' wish lists and ensure every student has the tools he or she needs to succeed in the classroom. "The Wishing Well program and its volunteers service under-resourced schools and students to the best of their ability," Stone said. "They make decisions based on their knowledge of the economic situations our families are facing. They make sure that it will benefit the students, families and the schools. I enjoy being their contact at Lihikai School."
Revilla knows firsthand how important it is to support educators—her youngest son is a teacher on Hawaii Island. Over the years, she said, "We, the family, would get him school supplies as needed or just contributed money to help him each year. He was one of those teachers, like many, who paid out of his own pocket to make school fun and engaging at the same time."
That said, Revilla encourages all elementary, intermediate, and high school teachers to contact their school's Wishing Well coordinator if they have any requests, large or small. "We are here to help you if we can," she said. "Wishing Well usually fulfills all of the requests given and rarely can it not accommodate."
She also hopes others will consider volunteering for or donating to the program. "Giving back is a really rewarding feeling, but giving back to assist the teachers who are giving our children the best education possible is the bonus," Revilla said. "It's a very worthy cause. I applaud [Wishing Well founder] Sarah Sorenson and her dedication to her project. We all share in her vision, hence our tireless service."
Want to make a difference? In addition to making a cash donation, you can purchase wished-for items like backpacks, pencil boxes, half-inch and one-inch view binders, 24-count crayon boxes, white glue, watercolor paint sets, dry eraser pens, No. 2 pencils, 3-by-5-ruled index cards, primary journals, composition notebooks, spiral notebooks, 12-inch wooden rulers, art supplies and construction paper. Most office items can be used in a classroom, so if you own a business and need to offload any office supplies or furniture, contact the Wishing Well for a pickup service. For more information or to make a donation, visit www.ILoveMauiSchools.com or call Sarah Sorenson at 283-3969.
The Maui News – August 2, 2021