RAM members help students succeed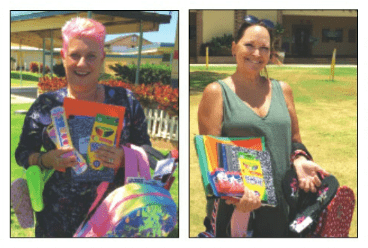 It may be hard to believe, but starting next week, thousands of Maui County students will head back to the classroom, virtually or otherwise. And just like it has in years past, the Wishing Well…for Maui Students program will make the new school year a little easier for students, parents and teachers.
Established in 2007, Wishing Well…for Maui Students is a program of the Realtors Association of Maui Community Foundation (RAMCF), a 501(c)3 nonprofit organization. Run by volunteer RAM members and fueled by the generosity of the community, the program covers every public school on Maui, Molokai and Lanai, along with Ka Hale A Ke Ola Homeless Resource Centers (KHAKO), a nonprofit that shelters students in different grade levels at its Wailuku and Lahaina facilities.
Each school has a volunteer coordinator (in some cases, more than one) who collects and distributes "wish list" school supplies—pencils, calculators, rubber slippers, and everything in between—throughout the year to teachers and school administrators. The coordinators include RAM members Malia Ashlock, Traci Bean, Michelle Bosque, Linda Briske, Michele Crozier, Kim Delmore, Susan DeLoria, Penni Egger, Gloria Ezera, Mary Fabbio, Amy Johnson, Jill Kaiser, Paula Kobayashi, Jeannie Kong-Evarts, Rosalind Link, Melissa Montgomery, Kris Musto, Darryl and Jane Ng, Suni Novotny, Kay Okamoto, Barb Potts, Ricardo Ralha, Anna Revilla, Sharon Robinson, Melissa Salvador, Sarah Sorenson and Sharon Viger.
Kaiser has been a part of the program since its inception in 2007. She is now the coordinator for three West Maui schools: Princess Nahi'ena'ena Elementary School, Lahaina Intermediate School, and her children's alma mater, Lahainaluna High School. "I feel Maui is heaven on earth and I've been lucky and honored to live here since 1990," she said. "I adore our teachers and students. Lahaina is a small town; Maui is a small island. If you don't know the teacher or student you are helping directly, you for sure know someone connected to them."
Kaiser says the Wishing Well program is like a savings account. "The contribution is small now—the payoff down the road will be huge," she said. "Our community should want students and teachers to feel supported."
Like Kaiser, Bean volunteered to be the coordinator for the school her kids once attended. "My children went to Baldwin High School and truly had the regular high school experience," she said. "I realized not everyone has the means to purchase everything needed to succeed in school, so I wanted to make a difference. I decided to become the coordinator for Baldwin High School and hopefully I can help make an impact on some child's life."
And she and her fellow Wishing Well coordinators are indeed making a big impact. "What makes this so rewarding are the letters I receive from the teachers saying how the items donated bring joy to the learning child and create a safe place to learn and be creative," Bean said.
The Wishing Well program relies on donations from individuals and businesses, and whether it's cash, school supplies or computer equipment, every little bit helps. "We volunteer to help all Maui County public school students and teachers," Kaiser said. "One-hundred percent of what you donate is delivered directly to the teacher or student requesting help. There is nothing like seeing students, and especially school staff, happy to see you arrive on campus."
Bean agrees wholeheartedly. "We are here to help lift up and support every child in Maui County," she said. "Please donate what you can to the Wishing Well and think about all the promise each of these children can potentially have if just given the support."
Want to make a difference for Maui County's students? In addition to making a cash donation, you can purchase wished-for items like backpacks, pencils, pencil boxes, crayons (24-count), Crayola-style markers, sanitizing wipes, white glue, primary journals, composition books (wide and college-rule), watercolor paint sets, ear buds, and construction paper. For more information about the RAMCF Wishing Well…for Maui Students program or to make a donation, visit www.ILoveMauiSchools.com or call Sarah Sorenson at 283-3969.
The Maui News – July 26, 2021