'A Walk in the Park' for local keiki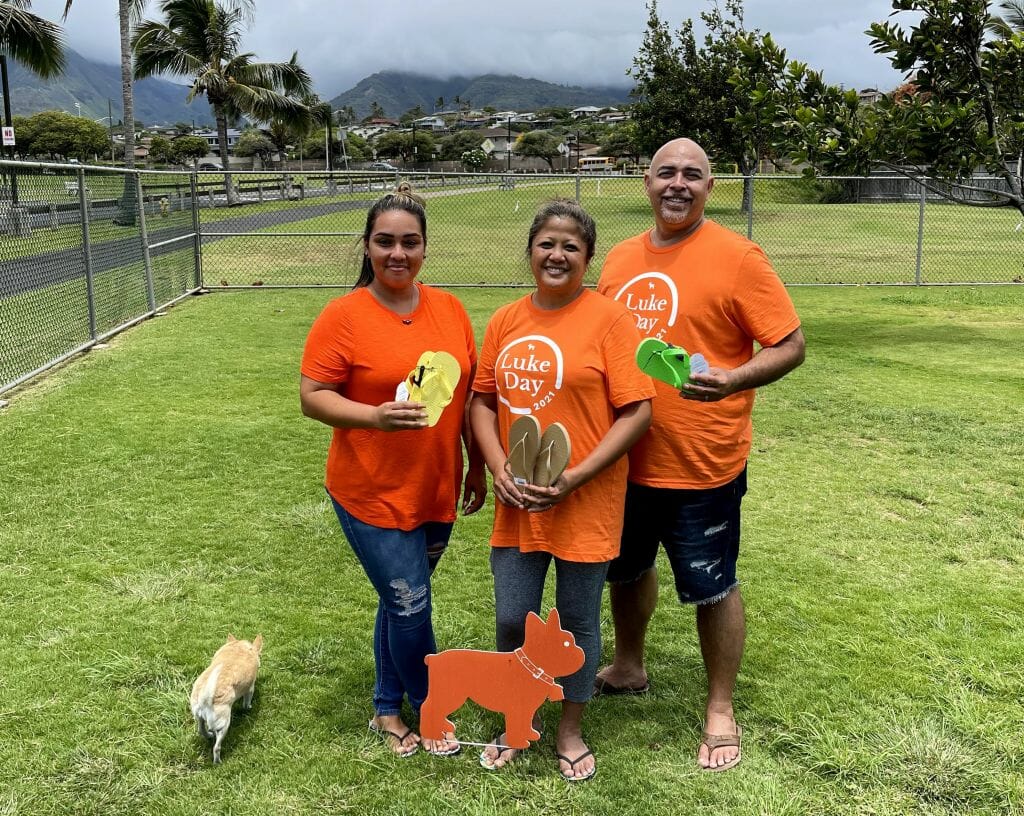 A few weeks from now, thousands of students across the state will start school. There are some who may arrive on campus wearing broken rubber slippers—or none at all. Others may lose or break theirs during the day and have no replacement. That's why Joe and Jodi Hogin of NextHome Hometown Realty Group coordinated a slipper drive last month as part of NextHome's annual "Luke Day."
"Luke" is NextHome Inc.'s four-legged mascot. Born on June 15, 2014, the French bulldog lives at NextHome's corporate headquarters in Pleasanton, Calif., and is the company's canine ambassador. Every June, in honor of Luke's birthday, NextHome agents across the country take part in community service projects like pet adoption drives, park cleanups, and fundraisers for animal shelters and nonprofit organizations.
To celebrate Luke's seventh birthday this year, NextHome Hometown Realty Group hosted the first-ever "A Walk in the Park with Luke" slipper drive at Keopuolani Regional Park's dog park on Sunday, June 13.
That day, the Hogins and their colleagues collected nearly 500 pairs of brand-new rubber slippers in varying sizes, styles and colors for elementary, middle, and high school-aged students. They handed off the donated slippers to Sarah Sorenson, founder and director of the Wishing Well… for Maui Students program, who will distribute them to local schools.
"This effort of collecting slippers is so appreciated, especially this year with so many families struggling to make ends meet and not being able to do any sort of fundraising events for the past year and a half," Sorenson said. "We received slippers of all sizes, colors and patterns. There will be some very stylish keiki this school year—they will love them."
The slipper drive was especially meaningful for Joe Hogin, who is the 2020-21 president of the Realtors Association of Maui (RAM). Since his presidential term began last fall, Hogin has been laser-focused on supporting the Realtors Association of Maui Community Foundation (RAMCF) and its two programs, the RAMCF Presidential Scholarship Fund and the Wishing Well…for Maui Students program.
Run by volunteer RAM members and fueled by the generosity of the community, the Wishing Well…for Maui Students program covers every public school on Maui, Molokai and Lanai, along with Ka Hale A Ke Ola Homeless Resource Centers, a nonprofit that shelters students in different grade levels at its Wailuku and Lahaina facilities.
Each school has a volunteer coordinator (and in some cases, more than one) who collects and distributes school supplies and other "wish list" items throughout the year. In the past, Wishing Well volunteers held school supply drives at the entrance of the Kmart store in Kahului. But since the store closed in 2017, the program has relied largely on donations from residents, visitors and businesses, which is why efforts like "A Walk in the Park with Luke" are so important.
"Needing footwear isn't what most people associate with what schools need, but for safety reasons, if the teachers or office don't have any extras when they break, the child will have to go home," Sorenson explained. "It is so much easier to be proactive, so we give them slippers all year long."
That said, the Wishing Well program will continue to accept donations of slippers and other much-needed items throughout the year. Sorenson says the program's wish lists have been longer than usual lately due to the COVID-19 pandemic. In addition to teachers' requests, she has received calls from parents and grandparents asking for assistance. Additionally, for health and safety reasons, students are not able to share many items in the classroom like they once did, so a larger quantity of donations is needed.
Want to make a difference for Maui County's students? In addition to contributing gently used office furniture, equipment and supplies, you can make a cash donation or purchase wished-for items like pencil boxes, crayons (24-count), Crayola-style markers, sanitizing wipes, white glue, primary journals, composition books (wide and college-rule), watercolor paint sets, ear buds, and construction paper.
For more information about the RAMCF Wishing Well…for Maui Students program or to make a donation, visit www.ILoveMauiSchools.com or call Sorenson at 283-3969.
The Maui News – July 12, 2021