REALTORS® help keep 'Upcountry Strong'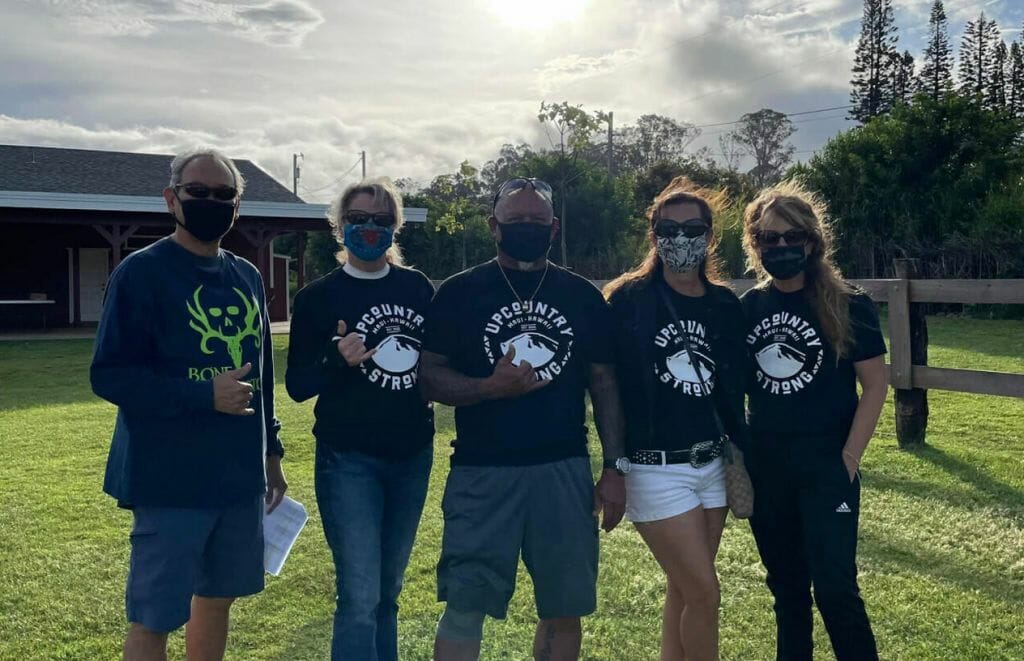 Last year, at the height of the COVID-19 pandemic, four neighbors launched an effort to help people in need. Today, that effort is still going strong. In fact, it's stronger than ever.
Makawao residents Kristine Musto of Coldwell Banker Island Properties and Claudia Garcia of Maui International Real Estate Services are next-door neighbors and the co-creators of #MakawaoSTRONG, a community-driven effort that has since evolved into Upcountry Strong, a 501(c)3 nonprofit organization.
Garcia and Musto came up with the idea for #MakawaoSTRONG while on one of their daily "quarantine walks" last June. They had the same mission in mind: To feed the hungry and show love and support to those impacted by the pandemic. They enlisted the help of two of their neighbors, Francis Kamakaokalani and Jen Wood, and not long after, #MakawaoSTRONG was born.'
The group's inaugural event was a concert-slash-food drive in Garcia and Musto's cul-de-sac. Kamakaokalani and three other musicians performed a show that was simultaneously livestreamed on the #MakawaoSTRONG Facebook page. As the music played, donors dropped off non-perishable food and household items. In the weeks that followed, the #MakawaoSTRONG team collected more donations and delivered them to seniors living at Hale Mahaolu Eha in Makawao, as well as other residents in the area.
Then, on July 4, #MakawaoSTRONG was invited to host a food drive during the 2020 Virtual Makawao Stampede, which was held in lieu of the Makawao Stampede and annual Makawao Parade. (Both were canceled due to COVID-19.) In addition to food, Musto and Garcia received a number of monetary donations that day. They used the money to purchase items at Pukalani Superette, which were then distributed to the food drive beneficiaries. Soon after, #MakawaoSTRONG and Pukalani Superette teamed up to create Upcountry Strong, and in the weeks that followed, the new partnership coordinated food drives and distributions for Upcountry residents in need.
In November, fellow Realtors Association of Maui member and Rotarian Lynette Pendergast of Equity One Real Estate invited Musto and Garcia to be the guest speakers at a Rotary Club of Upcountry Maui meeting. After Musto and Garcia made their presentation, the Rotarians suggested they turn Upcountry Strong into a nonprofit organization.
And so they did.
In December, Upcountry Strong made its debut as a 501(c)3 nonprofit with Musto, Garcia, Kamakaokalani, Wood, and Pukalani Superette president Megan Nakashima serving on its board of directors. The nonprofit now works with several community partners, including Pukalani Superette, the Maui Food Bank, Oskie Rice Arena, Haleakala Ranch, Polli's Mexican Restaurant, Kaonoulu Ranch, Common Ground Collective, Pacific Media Group, and Meadow Gold.
To date, there have been six food distribution events and Musto estimates between 200 and 225 recipients have been served each time. The most recent food distribution was held on Saturday, June 26; the next one will take place on Saturday, Aug. 21, at its usual location, the Oskie Rice Arena in Makawao. The venue has been provided to Upcountry Strong free of charge thanks to Maile Masada of Coldwell Banker Island Properties, who is the arena's director of facility operations.
The pandemic may be abating, but Musto says the need for food assistance isn't going away anytime soon—and neither is Upcountry Strong. "This isn't just a COVID venture," she said. "We are in this for long haul."
For now, food is Upcountry Strong's main focus, but Musto says the nonprofit plans to broaden its scope and assist residents in other areas of need. "Our long-term goal is to be a resource for the Upcountry community," she said.
You can help them achieve that goal by making a monetary donation in any amount or by purchasing an Upcountry Strong logo t-shirt at Pukalani Superette; all proceeds will go to the nonprofit. Logo hats are also available via the group's Facebook page. Upcountry Strong is also seeking a grant writer and is in need of a facility—like a warehouse or storage unit, ideally in the Upcountry area—to store donations and supplies. For more information about Upcountry Strong or to inquire about donor opportunities, call Musto at 870-0553 or Garcia at 298-9257, email claudiaonmaui@gmail.com or visit www.facebook.com/upcountrystrong.
The Maui News – July 5, 2021