REALTORS® help make college dreams come true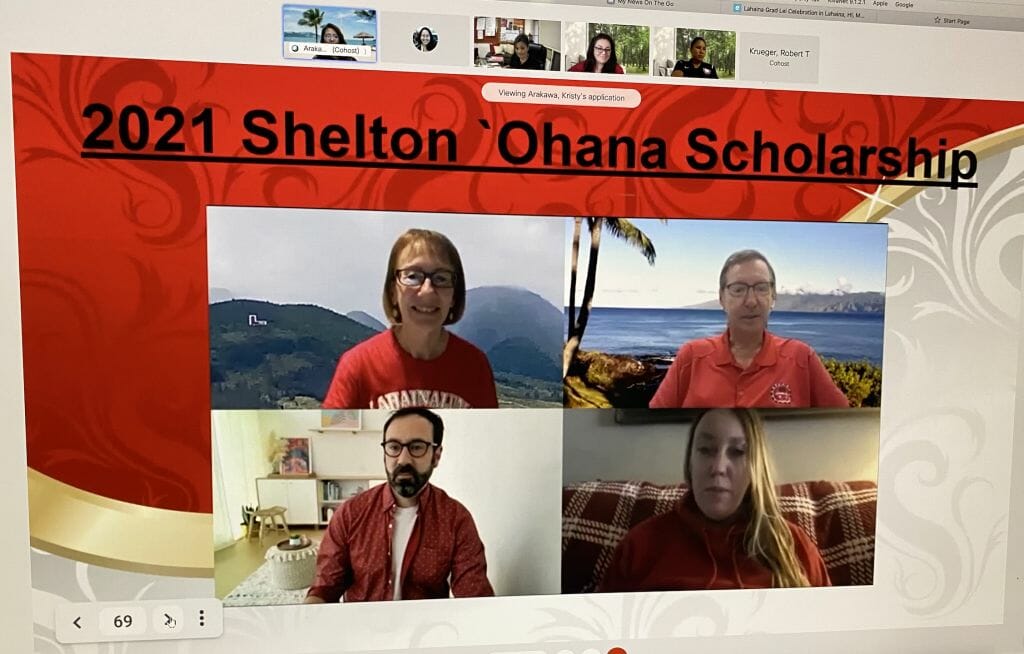 For any college-bound high school senior, there's nothing quite like the thrill of receiving an acceptance letter from their top-choice school. But for many, that chicken-skin moment may be overshadowed by a distressing question: "How am I going to pay for this?"
That's why student scholarship programs are so important.
There are many Realtors Association of Maui (RAM) members who support Maui's young scholars every year. Among them are Rob Shelton of Island Sotheby's International Realty and Betty and Roy Sakamoto of Coldwell Banker Island Properties. They offer annual scholarships through the Lahainaluna High School Foundation (LHSF), a nonprofit organization established in 2000 that provides resources and opportunities to the Lahainaluna school community and assists in preserving and perpetuating the school's culture, history and traditions. Among other things, LHSF has provided the school with a $9 million state-of-the-art multipurpose stadium; has given more than $1.25 million in grants to nearly every team, club and student organization on campus; fills the bookshelves of the school library; and has administered more than $1.8 million in donor-sponsored scholarships to Lahainaluna High School students and teachers.
Shelton is a founding director of the LHSF; he is also a past president and current member of its board of directors. His wife, Louisa, and their two children, Jeff and Kelvie, are all Lahainaluna graduates. In 2017, the family established the Shelton 'Ohana Scholarship as a way to pay it forward by providing financial support to Lahainaluna graduates who are continuing their education. The recipient of this year's $1,000 Shelton 'Ohana Scholarship is Alexa Acosta, who will be heading off to the University of California Irvine this fall to pursue a degree in business administration. It is a renewable scholarship, which means Acosta, as well as previous and future scholarship recipients, will receive a total of $4,000 if they continue their education for four years.
And the Sheltons' support for higher education extends beyond Maui. In 2019, they created the Shelton 'Ohana Endowed Scholarship Fund for undergraduate students studying abroad though the University of Washington's Global Business Center. (The University of Washington is the couple's alma mater.)
Like the Sheltons, the Sakamotos have been actively involved with the LHSF since its early years. The couple has deep ties to the school: Roy, along with his father, Hiroshi, and daughter, Julie Flynn Sherlock, are all Lahainaluna graduates; Betty has served on the LHSF board of directors. In 2011, they created the renewable Roy and Betty Sakamoto Scholarship for graduating Lahainaluna High School seniors. The recipient of the $1,500 Roy and Betty Sakamoto Scholarship for 2021 is Jumar Dela Cruz, who will be studying business administration at the University of Hawaii Maui College this fall.
This year, the Sakamotos created an additional scholarship in the amount of $1,500 to honor the extraordinary life of their dear friend and country music legend, Charley Pride, who died in December from complications of COVID-19. The Charley Pride Memorial Scholarship was awarded to Akira Foreman, who will attend the University of Hawaii Maui College this fall with her sights set on becoming a nurse.
The LHSF scholarships were presented to the students during a virtual ceremony on May 18. Sixty-six scholarships totaling $141,500 were awarded this year, including the Shelton 'Ohana Scholarship, Roy and Betty Sakamoto Scholarship, and Charley Pride Memorial Scholarship.
The Sheltons and the Sakamotos hope others will consider helping students at any local high school achieve their academic and career goals by sponsoring a scholarship. "We would love to ask others in our community to consider offering a scholarship to a college-bound student in any amount," Betty said. Even something as seemingly simple as donating a gas gift card or air miles can make a big difference, she said. "We can see to it that as many as possible are able to go to college with help from the community."
For more information about the Lahainaluna High School Foundation, visit www.lahainalunahighschoolfoundation.org.
The Maui News – June 14, 2021