RAM members make wishes come true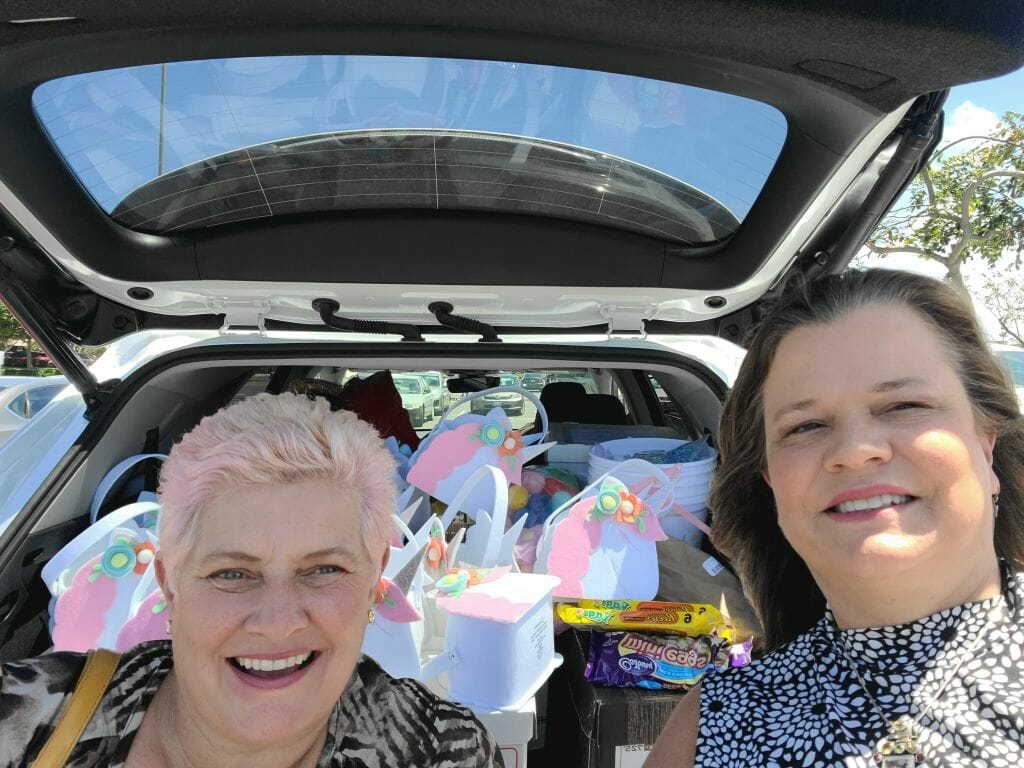 Sometimes, one good idea can create a ripple effect. Case in point: Maui Kokua Angels, a new volunteer-fueled program that collects wished-for items for residents staying at Ka Hale A Ke Ola (KHAKO) Homeless Resource Centers.
Maui Kokua Angels began in March, but its origins stretch back to the summer of 2018. That's when Realtors Association of Maui (RAM) 2018-19 President Gina Duncan of Fine Island Properties toured KHAKO's facility in Wailuku. The visit inspired her to launch a fundraiser to help KHAKO purchase and install a new children's playground during her tenure as president. RAM members ultimately raised nearly $30,000, and on Aug. 9, 2019, Duncan attended a blessing ceremony for the newly installed playground.
And KHAKO has been on her mind ever since.
Last May, Duncan, who is the co-founder of the Asian Real Estate Association of America (AREAA) Aloha Chapter, took part in a month-long effort that brought together chapter members and non-members to bring pomp and circumstance to high school graduates staying at KHAKO's Wailuku and Lahaina facilities. Throughout the month, the volunteers collected and delivered lei, balloons, flowers, rubber duck floaties and gift cards to make graduation day extra special for the students. (Duncan will soon begin rounding up items for this year's graduates, too.)
Last month, inspiration struck once again. This time, it was sparked by the "Home Swapping Network," a long-running monthly swap party that transitioned to Facebook Live in 2020 due to the COVID-19 pandemic. Hosted by members of Maui's theater community (Duncan is among them), the highly entertaining livestreamed program showcases free items up for grabs, including clothing, accessories and household goods.
Duncan contacted Misty Bannister, KHAKO's children's services coordinator, and asked if KHAKO residents had any wish list items; if they popped up during the next swap, she'd put them aside. Bannister sent an initial list that included a car seat, toddler booster seat, storage bins, a DVD player and kid-friendly DVDs. With the power of social media in mind, Duncan posted the list of asked-for items on her Facebook page. A handful of enthusiastic comments later, the wish list had been fulfilled—and Maui Kokua Angels was born.
Several "angels" donated the requested items; others helped fill 128 Easter baskets for kids staying at the shelter. (And some did both.) The angels include Courtney Brown of Island Sotheby's International Realty, Shannon Cortez of First Hawaii Title, Sandy Daniells of Fine Island Properties, Kimberly Delmore of Delmore Realty, Claudia Garcia of Maui International Real Estate Services, Jill Kaiser and Mary Kerstulovich of Hawaii Life Real Estate Brokers and Melissa Salvador of Old Republic Title.
Here's how it works: Bannister composes a list of needed items and sends it to Duncan, who then posts it on her Facebook page. Donors choose which items they'd like to sponsor and notify Duncan, who will make arrangements to pick up the brand-new, like-new or gently used donations and drop them off at KHAKO.
"Gina and our friends with Maui Kokua Angels have been such a huge support for our families in need," Bannister said. "They have never turned away at the chance to try to help. They are all so generous and kind and have such huge hearts. There are not enough words to express the gratitude we have for all of them."
Maui Kokua Angels collects and delivers specifically requested items only; monetary donations can be sent directly to KHAKO.
With two locations in Wailuku and Lahaina, KHAKO is a comprehensive resource center that prepares families and individuals for permanent housing while providing emergency shelter, counseling services, addiction recovery management and adult education and training, as well as a primary care medical clinic and childcare facilities.
For more information about Maui Kokua Angels, email Duncan at mauigina@gmail.com or follow her posts on Facebook at www.facebook.com/mauigina. To make a financial contribution to KHAKO, visit https://www.khako.org/donate-now or call 242-4663. To learn more about the Home Swapping Network, visit www.facebook.com/HomeSwappingMaui.
The Maui News – April 19, 2021