RAM honors its Affiliate of the Year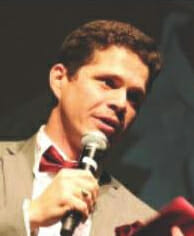 Brendan O'Colmain never saw it coming.
The signs were all there: His wife, Ashley, had casually stopped by his office that morning. Sharon Robinson of Movement Mortgage also paid an out-of-the-ordinary visit. And as he and his colleagues convened a team meeting, a video camera was conspicuously stationed a few feet away.
Even so, O'Colmain, an insurance account representative with State Farm Insurance, Kit K. Okazaki Agency, was stunned when Robinson, who was there that morning under the pretext of picking up some documents, politely interrupted the meeting to announce he was the 2020 Affiliate of the Year.
That's when he realized everyone was in on it. "They'd been planning it for weeks… and I was completely oblivious to it," he laughed.
Last month, three honorees—O'Colmain, 2020 Realtor Broker of the Year Donna Ting and 2020 Realtor Salesperson of the Year Kim Insley-Morrell—were recognized by the Realtors Association of Maui (RAM) for their business accomplishments, as well as their spirit, character, professionalism and volunteer work.
He may be an insurance guy, but O'Colmain knows a thing or two about real estate. He got his start in the industry in 2009 as a short sale specialist and processor at EQ Finance in Los Angeles, California. In 2014, the Seabury Hall alumnus returned home to Maui and became a Realtor soon afterward. Two years later, O'Colmain decided to shift from real estate to insurance.
Known for his natural charisma and contagious enthusiasm, O'Colmain is a familiar face to many RAM members. If they haven't worked with him directly, they've likely seen him on the Iao Theater stage belting out The Trammp's "Disco Inferno" or Marvin Gaye's "Let's Get It On"—all for a good cause. As a four-time RAM's Got Talent contestant (he's taken home the third-place prize three times and is an "Audience Favorite" award recipient), O'Colmain has helped raise money for Maui OnStage at the Historic Iao Theater and the Realtors Association of Maui Community Foundation (RAMCF) Presidential Scholarship Fund. RAM's Got Talent is one of several RAM-sponsored fundraisers for the scholarship program, which to date has awarded $812,00 in academic scholarships to college-bound high school seniors throughout Maui County, as well as past scholarship recipients.
O'Colmain has also volunteered his time and talent as a deejay at the annual Aloha BackPack Buddies Bocce Ball Fundraising Tournament benefitting the Maui Food Bank's Aloha BackPack Buddies program, which provides healthy weekend meals to students from food-insecure homes throughout the academic year. And he's helped bring Christmas magic to families staying at the Ka Hale A Ke Ola Homeless Resources facility in Wailuku: For two years running, he has deejayed holiday dinners at the shelter, volunteering alongside his fellow RAM members. O'Colmain never hesitates to raise his hand and help out whenever and however he can. "I always say, 'recruit me!'" he said. "I want to be a part of things."
He will seize the opportunity to help others, whether it's on the Iao Theater stage, on the sidelines of the bocce ball field, or sitting at his desk at the State Farm office. For O'Colmain, insurance is more than plans and premiums—it's about protecting yourself, your loved ones, and others in the community. That's why he goes above and beyond to help his clients and provide them with the tools they need to secure their family's financial future.
As a newly minted member of RAM's Affiliates Committee, O'Colmain says he looks forward to working with other affiliates in the days to come. "RAM is a magnanimous organization that does so much for the community," he said. "I'm very proud to be a part of it."
The Maui News – April 12, 2021