RAM honors its REALTOR® Salesperson of the Year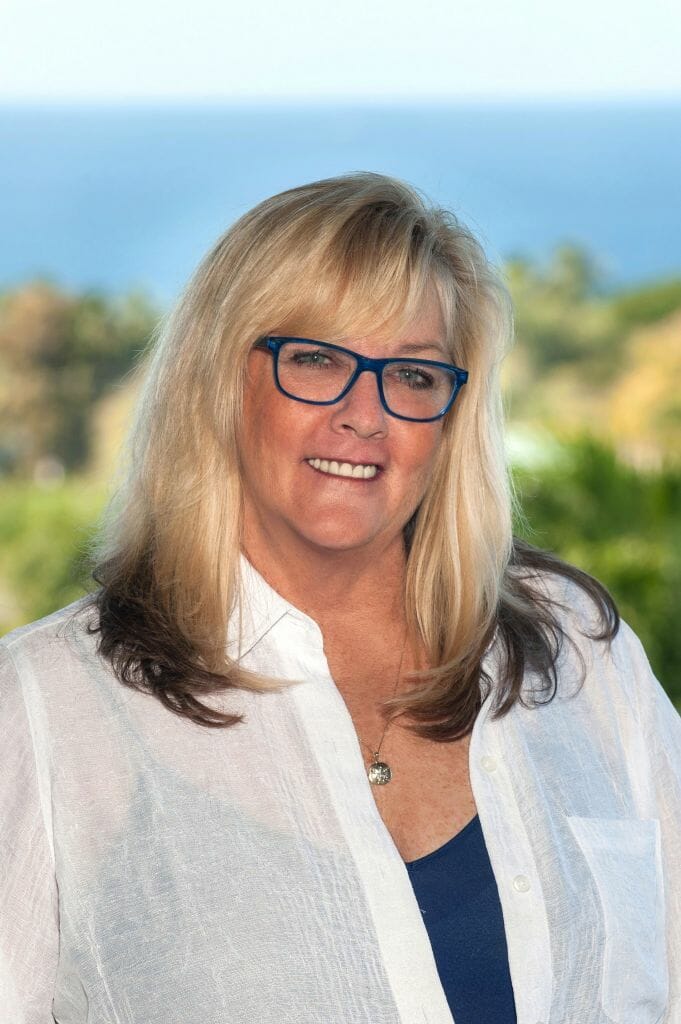 It started off like any other Friday for Kim Insley-Morrell of Coldwell Banker Island Properties, but by the end of the day on Feb. 26, she was draped in flower lei and had been named the 2020 Realtor Salesperson of the Year.
Earlier that day, Insley-Morrell drove to the Coldwell Banker Island Properties Kihei office to attend a meeting. Unbeknownst to her, there was only one agenda item: Honoring her with the 2020 Realtor Salesperson of the Year award. When Insley-Morrell arrived at the office, she was surprised by her colleagues and several family members who had secretly flown to Maui for the occasion.
And "surprised" is a bit of an understatement. "I was shocked beyond belief," she said.
Insley-Morrell, along with 2020 Realtor Broker of the Year Donna Ting and 2020 Affiliate of the Year Brendan O'Colmain, was honored by the Realtors Association of Maui (RAM) for her business and real estate accomplishments, as well as her spirit, character, professionalism, and volunteer work. "To be recognized for what is embedded in me as a service provider is just an absolute dream come true," she said. "To be awarded for something that I strive for, and to know it is acknowledged by my peers in the industry, is an honor."
Insley-Morrell worked as an interior designer in Orange County, California before moving to Maui in 1988. In 2000, she decided to try her hand at real estate. Safe to say, it was a wise career move: Since then, she's closed more than 400 transactions.
Insley-Morrell says she enjoys the close-knit camaraderie of the local real estate community. "What is great about Maui's real estate community is the small town atmosphere," she said. "It is very common to run into your friends and peers in the community and discuss properties at the beach, at the gym or while at Costco. The Realtor community is a very active community and we cross paths all the time doing life on Maui."
And what does she enjoy most about being a Realtor Salesperson? "I love being a matchmaker," she said. "When you find the right combination, buyer to seller and vice versa, it's a rewarding feeling every time it happens."
Insley Morrell's passion for real estate is rivaled only by her passion for giving back. She routinely volunteers at her church, Hope Chapel, and has served meals alongside her fellow RAM members at Ka Hale A Ke Ola Homeless Resource Centers. She's also taken part in the annual Aloha BackPack Buddies Bocce Ball Fundraising Tournament, which benefits the Maui Food Bank's Aloha BackPack Buddies program.
Over the years, Insley-Morrell has volunteered to raise and train three puppies—Valor, a yellow lab; Shelby, a golden retriever; and Ranger, a black lab—for Assistance Dogs of Hawaii, a Maui-based nonprofit organization that provides professionally trained assistance dogs to people with physical disabilities and other special needs throughout Hawaii at no cost. Among other things, as a puppy raiser and trainer, Insley-Morrell attended weekly classes with her four-legged trainees and helped them master basic commands, as well as more specific tasks, like retrieving dropped items and opening and closing doors.
Apart from her community service and career accomplishments, Insley-Morrell is known among her peers as a big-hearted individual who always looks for ways to make someone's situation better. Her giving and selfless nature continues to be an inspiration to her husband, Dave, and their six children and 16 grandchildren, who say her work ethic and others-focused mentality are the cornerstones of her continued success as a Realtor, mother and grandmother.
The Maui News – April 5, 2021