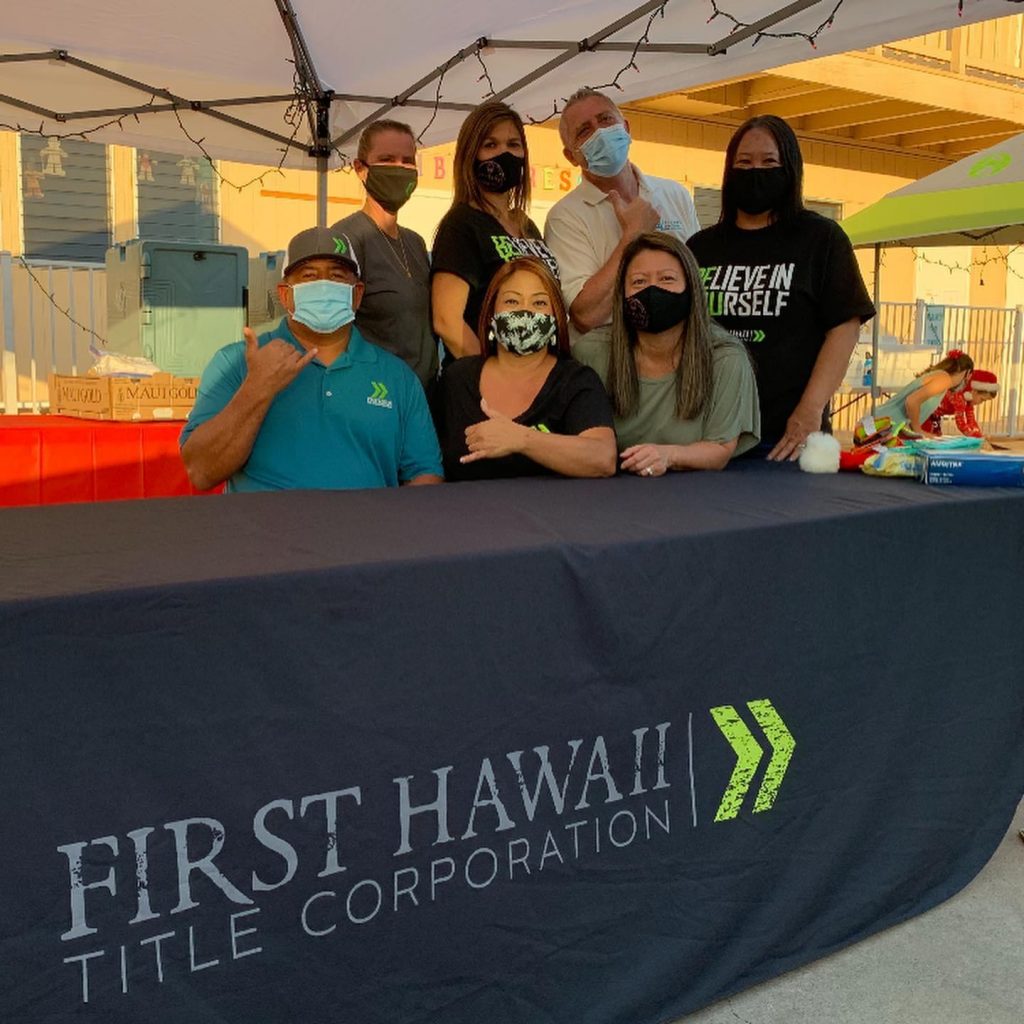 The holidays may be behind us, but it's never too late (or too early) to reflect on the season of giving. Just ask Realtors Association of Maui (RAM) affiliate member Shannon Cortez and her fellow colleagues at First Hawaii Title Corp. They are still feeling the holiday magic after taking part in a drive-thu event last month for kids served by the Friends of the Children's Justice Center of Maui.
Held in partnership with Family Programs Hawaii and the HI H.O.P.E.S. Initiative, the very merry event took place on Thursday, Dec. 10 at Grace Bible Church in Kahului. It had all the trimmings: Live music, food, gifts, and special guest appearances by Santa Claus and "Frozen's" Elsa and Anna. First Hawaii Title Corp. was a sponsor of the event and all of the staff members from the company's Kihei office participated: Cortez, Michele Andrion, Debra Cabradilla, Rena Day, Kai Schmidt, and Jerrie Shannon. Apart from being physically present at the event, each made a personal donation.
They are among the many RAM members who support the Friends of the Children's Justice Center of Maui year after year. "We [the First Hawaii Title Corp. staff] all have families and children of our own," Cortez said. "The mission of the Friends of the Children Justice Center—to provide assistance to abused and neglected children and to promote prevention of child abuse and neglect—truly hit home for myself and our staff. Children, including these children, hold our future. If we can contribute in any way to let them know how important they are and how loved they are makes it all worth it. Those smiles and excitement made a difference to us."
Hawaii's Children's Justice Centers are programs of the Hawaii State Judiciary and were established by the state legislature in 1986 to ensure a fair and neutral process for the handling of reports of child abuse. Each center is designed to make children feel safe and comfortable while being interviewed about reports of child abuse and as witnesses to crimes. On average, the state's five Children's Justice Centers see approximately 1,000 children every year and many of them arrive with no more than the clothes on their backs. That's where organizations like the Friends of the Children's Justice Center of Maui step in to help. Like its counterparts on Oahu, Kauai and Hawaii Island, the nonprofit provides funding for direct services to help children recover from the damaging effects of their abuse and works with community partners to fulfill their needs. Additionally, every holiday season, it collects and distributes toys to kids of all ages on Maui, Lanai and Molokai.
This isn't the first time Cortez and her colleagues have supported a worthy cause. "Throughout the year we participate in various events throughout the community, but we do have a soft spot for events that benefit the children of our community," she said.
One of those events is the annual Aloha BackPack Buddies Bocce Ball Fundraising Tournament benefiting the Maui Food Bank's Aloha BackPack Buddies program, which provides healthy weekend meals to students from food-insecure homes throughout the school year. First Hawaii Title Corp. is a corporate sponsor of the tournament.
The Christmas season may have come and gone, but Cortez encourages other to support the Friends of the Children's Justice Center of Maui in any way they can, any time of the year. "Just a small contribution can make a difference," she said. "Don't hesitate one bit to participate. The beneficiaries are our keiki… and seeing those innocent faces who appreciate all you do will warm your heart."
To learn more about the Friends of the Children's Justice Center of Maui or to inquire about donor opportunities, visit www.mauicjc.org or call 986-8634.
The Maui News - January 18, 2021