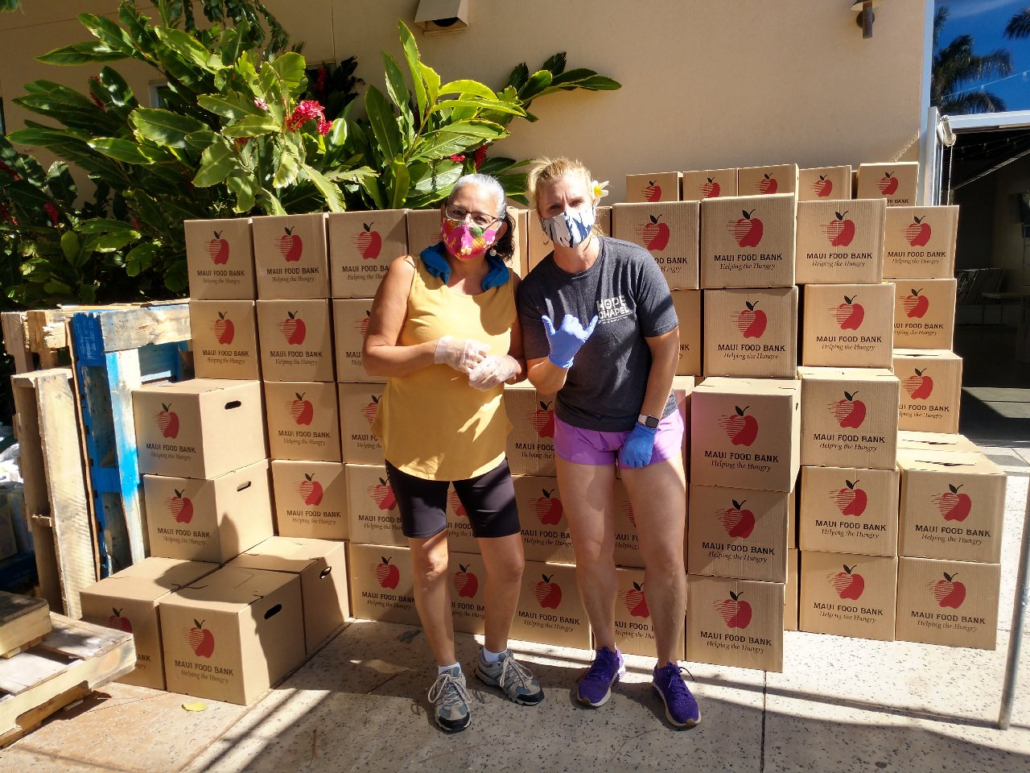 All it took was one volunteer shift.
On a Thursday morning in late April, Rosalind Link of Wailea Realty Corp. + Windermere Real Estate helped fill dozens of boxes of food at Hope Chapel in Kihei. It was her first time volunteering at the weekly drive-thru-style food distribution event—and it would not be her last. "I was hooked right away," she said. "The people are so awesome. It's work, but it doesn't seem like that when you're there."
Link has helped out every Thursday since and will continue to as long as she's needed. "It's very impactful and very rewarding… and it's just a great feeling," she said.
Link is one of several Realtors Association of Maui (RAM) members who have signed up to prep, pack, and load boxes of food into idling cars on Thursdays at Hope Chapel. Other RAM member volunteers include Napua Banks of Island Sotheby's International Realty; Stephanie Dutcher, Kim Insley-Morrell and Carolyn Wilfley of Coldwell Banker Island Properties; Clint and Bob Hansen of Maui Luxury Real Estate; Dennis and Martha Rush of Compass; Terri Anne Nicholson of Maui Paradise Properties; and Alana Rucynski, Tania Harmon, Darla Phillips and Greg Poppy of Wailea Realty Corp. + Windermere Real Estate.
When the weekly event began nearly nine months ago, volunteers distributed food (the bulk of which is provided by the Maui Food Bank; the rest is supplemented by Hope Chapel) to 152 families in need. That number has since grown to more than 900 and is inching closer to 1,000. "It went from 100 cars… to hundreds of cars waiting in line for food," Link said.
That's why she encourages others to help the Maui Food Bank in any way they can, either by volunteering, donating or hosting a virtual food drive.
When Link isn't rallying support for the food bank, she's rounding up school supplies—everything from desk lamps to floor fans to binder clips—as the Wishing Well… for Maui Students coordinator for Kihei Elementary School and Lokelani Intermediate School. Run by volunteer RAM members and fueled by the generosity of the community, Wishing Well… for Maui Students, a program of the Realtors Association of Maui Community Foundation (RAMCF), collects and contributes "wishlist" items—goods, supplies and services—to public schools countywide. The program covers every public school on Maui, Molokai and Lanai, as well as Ka Hale A Ke Ola Homeless Resource Centers, which shelters students in different grade levels at its Wailuku and Lahaina facilities.
Each school has a volunteer Wishing Well coordinator (and in some cases, more than one); Link stepped into the role of coordinator for Kihei Elementary School and Lokelani Intermediate School in mid-November. Taking on two schools at once is no small feat, especially amid dual public health and economic crises. The program relies largely on donations from residents, visitors and local businesses. And every little bit helps.
Want to make a difference for Maui County's students? In addition to making a cash donation, you can purchase a variety of wished-for items, including, but not limited to: rubber slippers, disinfecting wipes, pencil boxes, dry erase markers, art supplies, construction paper, spiral notebooks, binders, and backpacks. For more information about the Wishing Well program or to make a donation, visit www.ILoveMauiSchools.com or call 283-3969.
Food banks across the country continue to face an unprecedented demand for resources and the Maui Food Bank is no exception. Prior to the COVID-19 pandemic, the nonprofit was serving 10,000 food-insecure residents monthly—it now serves a staggering 45,000 people every month. More than ever, food and monetary donations are needed to help feed those who are at risk of going hungry in Maui County. To learn more about the Maui Food Bank or to inquire about donor or volunteer opportunities, visit www.mauifoodbank.org or call 243-9500.
The Maui News – December 14, 2020